In a groundbreaking move, MossRehab, one of the nations leading rehabilitation centers, will be the first facility in the country to offer ReWalk™ – I, an institutional version of ReWalk™, the only motorized exoskeleton that is approved by the FDA to be used in a rehabilitation setting under the supervision of healthcare professionals.
n a groundbreaking move, MossRehab, one of the nation's leading rehabilitation centers, will be the first facility in the country to offer ReWalk ™ - I, an institutional version of ReWalk™, the only motorized exoskeleton that is approved by the FDA to be used in a rehabilitation setting under the supervision of healthcare professionals. Patients with paralysis below the waist resulting from a spinal cord injury will be able to participate in gait training using ReWalk. The therapeutic use of ReWalk, also called ReWalking, involves physical therapists training patients to use the device to stand, sit, walk, and in some cases climb and descend stairs.

This next stage in ReWalk's evolution follows the successful clinical trials to determine its safety, efficacy and user satisfaction completed at MossRehab. With its international reputation for clinical rehabilitation and research programs, MossRehab was the exclusive clinical trial site in the United States for ReWalk; the trials will conclude in August 2011. The clinical information and experience gained from the trials cleared the way for this next exciting phase to begin, allowing many patients to benefit from this technological advancement.
ReWalk is a lightweight, ergonomic brace-support suit that is worn around the legs and back and fits closely to the body on top of everyday clothing. The device has motorized hip and knee joints, rechargeable batteries, sensors and a computer-based patient-operated control system. Concurrent use of fore-arm crutches stabilizes the user during standing and walking and through simple, subtle body movements, the user can initiate and control movements for walking.
Therapeutic use of ReWalk - I, will be available initially to individuals with spinal cord injuries below T6 level who have none of the following: significant joint deformities, severe spasticity, back instability, unhealed fractures or pressure sores. Patients are required to have a recent DEXA scan for measurement of bone density and recent evaluation and prescription for ReWalk therapy from a rehabilitation physician who can certify that the patient is safe to stand.
According to Alberto Esquenazi, MD, Chair of the Department of Physical Medicine and Rehabilitation at MossRehab who has led the clinical trials for ReWalk and has been instrumental in developing the device, "Even though there isn't scientific proof yet, research subjects in the trials have reported reduction in spasticity, reduction in pain, improved cardiopulmonary fitness and improvement in bladder and bowel management. We are thrilled to be the first institution in the country to offer this revolutionary therapy to help improve the health and well-being of people with paraplegia."
ReWalking will be available beginning in late August. Three board-certified rehabilitation specialists in spinal cord injury are available at MossRehab's Outpatient Center in Elkins Park, Pa., to evaluate patients interested in the program. There will be ten physical therapists specially trained to work with and supervise patients using the therapy. Most insurances will cover the therapy as part of a course of physical therapy. The frequency and duration of treatment will be based on patient tolerance and progress and medical need. Physical therapy is scheduled Monday through Friday, from 8 a.m. to 5 p.m. with each session lasting approximately one hour.
"This is a historic moment," says Amit Goffer, PhD, founder of Argo Medical Technologies Ltd., the Israeli company that developed ReWalk. "For more than 2,000 years, the wheelchair has been the only mobility solution offered to patients with paralysis below the waist, and now at MossRehab, the dream of walking again is becoming a reality for them."
For more information on gait training using ReWalk at MossRehab's Outpatient Center, call 215-663-6354 or 1-800-CALL MOSS.
About MossRehab
Recognized as a national leader in medical rehabilitation, MossRehab, part of Albert Einstein Healthcare Network, has a worldwide reputation for excellence in physical medicine and rehabilitation and has repeatedly been recognized by U.S. News & World Report as one of "America's Best" rehabilitation hospitals. MossRehab treats patients with complex physical needs from brain injury, spinal cord injury, stroke and musculoskeletal disorders and also provides comprehensive treatment for orthopedic and sport-related injuries or conditions; hand trauma, amputation and neurological diseases. MossRehab offers unparalleled experience, caring and compassionate staff, and research staff that includes some of the world's foremost experts in rehabilitation medicine. For more information, call 1-800-CALL MOSS or visit www.mossrehab.com.
About Albert Einstein Healthcare Network
Albert Einstein Healthcare Network is a 1,234-bed integrated delivery network with more than 8,500 employees serving the communities of Philadelphia and Montgomery Counties, Pa. The network's primary location, Albert Einstein Medical Center, one of the largest academic medical centers in the Delaware Valley, provides training and education for more than 450 residents and fellows. Einstein Healthcare Network also provides a comprehensive range of healthcare services through the Einstein at Elkins Park hospital campus, MossRehab, Montgomery Hospital Medical Center, Belmont Behavioral Health, Einstein at Germantown, Willowcrest (a center for subacute care), outpatient facilities such as Center One, and a network of approximately 500 employed primary care physicians and specialists through Einstein Neighborhood Healthcare, Einstein Specialty Physicians, and Fornance Physician Services, Inc. Construction is underway for a fourth full service, acute care campus located in East Norriton, Pa., scheduled to open in September, 2012. For more information, visit www.einstein.edu or call 1-800-EINSTEIN.
About Argo Medical Techologies Ltd.
Argo Medical Technologies Ltd., develops and markets walk restoration devices for people with lower limb disabilities; the company's flagship product is ReWalk. Located in Haifa, Israel, with decades of combined experience in R&D, engineering and manufacturing of multidisciplinary systems, Argo also boasts staff with extensive experience in worldwide marketing, sales and business development. The company is assisted by an Advisory Board of renowned international experts in the fields of medicine, biomedical engineering, robotics and marketing.
Featured Product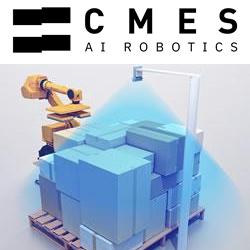 Powered by AI, CMES Robotics enables 3D vision for factory robots. CMES AI vision software enables robots to recognize unstructured, flexible, or deformed objects, pick them up, and loading and unloading. CMES Vision software has been deployed worldwide for random palletization and depalletization along with void filling applications. CMES Robotics automates your warehouse, logistics, and supply chain. For more information, please visit: cmesrobotics.com or email info@cmesrobotics.com.