FANUC Robotics robots will be out in force at this years PPMA Exhibition being demonstrated by FANUC Robotics UK and also by several of its strategic partners. Besides demonstrating the many benefits of FANUC robots for the packaging sector, the underlying theme focuses on affordability.
A quirky demonstration of the FANUC LR Mates ability to count one pound coins has a serious side to it. The robot uses a vision system to locate randomly placed coins and place them into a piggy bank while counting them in the process.

Relative to increases in operational costs, FANUC are keen to point out that robots have decreased in price over the past 20 years, making them highly affordable. With high duty cycle FANUC Robotics robots available from £16K - £17K, one year returns on investment (ROI) begin to look realistic and even more so when three shifted.
PPMA will see a complete cross-section of FANUC Robotics robots being demonstrated including the M-3ia and M-1ia delta arm robots for high speed pick and place tasks, the small high speed LR Mate robot and palletising robots for handling payloads up to 700 Kg.
FANUCs Strategic Partners focus on specific areas of automated packing and handling using FANUC Robotics robots - exhibiting and demonstrating will be Pacepacker Services, Abar Automation and Smurfit Kappa Machine Systems.
Featured Product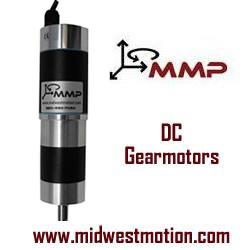 MMP is well known for our Lightning-Fast Delivery Capability, Huge On-Hand Inventory, High Volume Capacity and Time Tested and Proven Reliability Methods. Our 100+ years of combined work experience and being able to deliver continual committed service to design and engineer ideas into reality gives us a competitive advantage in the motion control industry. If you need a sample right away, we can be a project-saving convenience for you, so contact us today!!