Noted industry analyst and RoboBusiness founder to develop content for robotics business development and investment event
FRAMINGHAM, MA—August 8, 2011—Robotics Trends today announced Dan Kara as conference chairman of the upcoming RoboBusiness Leadership Summit event, taking place November 2-3, 2011, at the Sheraton Boston Hotel in Boston, Massachusetts. In this capacity, Kara will develop conference program content focused on the commercial advancement of robotics products, services, businesses and new markets. Complete event details can be found at www.robobusiness.com.

The RoboBusiness Leadership Summit will host 300 executive-level business development professionals, investors, academics and executive members of the robotics community seeking commercial success in robotics.
An impressive lineup of robotics visionaries and successful leaders within the robotics industry will be presenting as part of the RoboBusiness Leadership Summit educational agenda.
"I am delighted to act as chairman for the RoboBusiness Leadership Summit," noted Dan Kara. "RoboBusiness is the premier business development event covering the full range of robotics industry segments - personal, service and industrial robotics. I look forward to bringing together in one place, at one time, the world's leading roboticists, along with business and investment professionals, to discuss the commercial application of robotics and intelligent systems technology to develop entirely new markets and product categories, open additional lines of business and enhance existing product lines."
"Dan was the founder and past chairman of the previous seven RoboBusiness events and continues to serve as a leading observer and strategist for the industry. It's a privilege to have Dan involved in the RoboBusiness Leadership Summit and know his involvement will ensure that the event will tackle the most pressing issues facing the industry today," states Jim Wagner, general manager of EH Events. "Dan has the knowledge and experience to bring forth a high quality and valuable program for attendees, which is our our primary mission."
Registration for the RoboBusiness Leadership Summit is open and early registration discounts savings are currently available. Complete event information and registration savings can be found at www.robobusiness.com.
For sponsorship information, contact Richard Erb at rerb@ehpub.com or 508-663-1500 x331.
About Robotics Trends
Robotics Trends, a division of EH Publishing Inc., is the world's first integrated media company serving the burgeoning personal, service, mobile and industrial robotics marketplace. Robotics Trends serves its audience through two major business divisions:
Robotics Trends Publishing, which produces Robotics Trends (www.roboticstrends.com), an online news and information portal focused on robotics business and technology trends for people who build, buy, invest in, and seek to understand the personal, service, mobile and military robotics markets; and Robotics Business Review (www.roboticsbusinessreview.com), a subscription media product providing primary research, analysis and market observations for the robotics and intelligent systems industries.
Robotics Trends Events, which produces the RoboBusiness Leadership Summit (www.robobusiness.com), and the Robotics Trends Summit Virtual Conference Series (www.robovirtualevents.com).
Featured Product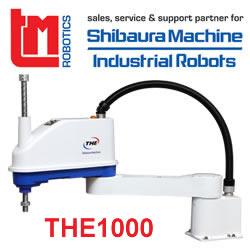 Designed for assembly and inspection applications in the electronics equipment and automobile components industries, the THE600 SCARA is a powerful automation tool. Advancing from the specifications of the existing THE400 SCARA, the THE600 has been developed to meet growing demand for fast-cycle automation. The THE600 model includes improvements in synchronised control and tracking precision. The THE600 is compact in design and offers improved high speed, with 60 per cent higher payload capacity than competing SCARA models in the same price range, making it the price-to-performance leader. Affordable price, impressive performance.