igus "robolink" successfully tested in 100 beta application
Robolink multi-axis joint modules from igus® are now available for order. Robolink is used for humanoid robots and other lightweight automation applications and includes a variety of options and components.

These range from high-strength Bowden cables, to drive units and attachment accessories for the robot arm.
More than 100 beta-testers used free prototypes to further the development of robolink for a variety of applications before mass production began. The applications were diverse and ranged from underwater, mobile and humanoid robots, to dental technology and camera guidance for production monitoring and sewage-pipe inspection.
Design
Robolink joints combine design freedom with simplicity. To keep the dynamic forces of the system as low as possible, the actuators and control module are decoupled from the tools (e.g. grippers, hands or suction cups). The lightweight, maintenance-free, and corrosion-resistant joints are made from tribologically optimized plastics. They are driven by cables and can rotate and swivel freely. The lightweight feature and central drive option are important in the field of low-cost robotics.
Bowden cables used in the robolink system lower friction due to an optimized friction couple. A full range of mechanical accessories for attaching the robot joints and routing the Bowden cables includes flange shaft blocks, interior separators to divide drive and data cables, a cable tensioning system, and a range of cable pulleys.
Space-saving drive units featuring four drive motors and one housing, including cable deflectors and guides, are also available for the robolink system. The units use a configurable drive disc, which connects to the system. Users can attach the disc drive to a variety of different motor or gear shafts and then connect the wear-resistant cables.
Most recently, robolink was awarded the iF product design award 2011, which is internationally recognized as a marker for good design.
Featured Product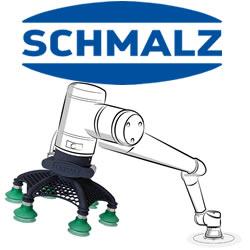 In order to interact with their environment and perform the tasks, lightweight robots, like all industrial robots, depend on tools - and in many cases these are vacuum grippers. These form the interface to the workpiece and are therefore a decisive part of the overall system. With their help, the robots can pick up, move, position, process, sort, stack and deposit a wide variety of goods and components. Vacuum gripping systems allow particularly gentle handling of workpieces, a compact and space-saving system design and gripping from above. Precisely because the object does not have to be gripped, the vacuum suction cupenables gapless positioning next to each other.