Attendees to gain practical insight from nearly 100 years of robotics leadership and experience
FRAMINGHAM, MA - August 11, 2011 - The RoboBusiness Leadership Summit, now in its 7th year, proudly announces its distinguished line up of Keynote Presenters, bringing nearly 100 years of practical robotics experience to the event. These well-known robotics leaders are eager to reveal wisdom and insights that can readily be applied to todays commercial advancement of robotics products, services, businesses and new markets.

The RoboBusiness Leadership Summit will host 300 executive level professionals and take place November 2-3, 2011 at the Sheraton Boston Hotel in Boston, Massachusetts. Complete event details can be found at www.robobusiness.com.
All business development professionals, investors, academics and executive members of the robotics community seeking to grow their commercial success in robotics cannot afford to miss this dynamic lineup of robotics visionaries:
Colin Angle, CEO and Co-Founder, iRobot
Mr. Angle guides the strategic direction of iRobot and is one of the worlds leading authorities on mobile robots with more than two decades experience. Under Angles leadership, iRobot is at the forefront of the growing robot industry, driving innovation and serving as an industry catalyst to change the world by fueling the era of robots.
John Reid, Director, Product Technology and Innovation, John Deere
As Director, Product Technology and Innovation at the Moline Technology Innovation Center (MTIC), the innovation arm of John Deere, Inc, Reid is responsible for redefining the MTIC as a support network for internal technology leverage and a linkage to the external environment to accelerate innovation for John Deere. Since 2001, Reid has provided enterprise-wide support and coordination of John Deere's technology development process in automated and unmanned vehicle development. Reid has been recognized internationally for his contributions in robotic applications for off-road equipment.
James Overholt, Senior Research Scientist - Robotics, U.S. Army TARDEC
With 25+ years experience in military robotics, Dr. Overholt has held numerous lead research positions and in 2006 was named Director of the then-newly formed Army Joint Center for Robotics (JCR). Dr. Overholt has also served as Acting Director of the Office of the Secretary of Defense Joint Ground Robotics Enterprise and in 2010 Dr. Overholt was promoted to the U.S. Armys First Senior Research Scientist for Robotics. A recognized leader in the field of unmanned systems and artificial intelligence, Overholt has been instrumental in efforts to inspire young people to pursue careers in the engineering disciplines.
Paul Copioli, President, VEX Robotics Design Systems
Mr. Copioli has 16+ years experience in robotics, engineering and management and a strong background in competition robotics for education. A long time mentor to school robotics teams, Copioli was recognized in 2005 by FIRST as the national Woodie Flowers Award winner. The highest honor among mentors in the FIRST robotics community, the award celebrates effective communication in the art and science of engineering and design.
These industry thought-leaders join nearly 20 additional robotics leaders scheduled to present Business Development and Investment sessions, along with Advanced Capabilities and Emerging Technologies sessions, as part of the complete RoboBusiness Leadership Summit educational agenda.
"Robotics Trends has always been committed to presenting the most relevant, important editorial regarding the commercial development of the robotics industry," states Dan Kara, Conference Chairman of the event. "With the RoboBusiness Leadership Summit we are able to bring together several hundred leading minds from the robotics community, with the sole purpose of accelerating the commercial development of new robotics products, services, businesses and markets. We are proud to say that there is no other event that can provide what RoboBusiness gives business development professionals, investors, academics and all executive members of the robotics community."
Registration for the RoboBusiness Leadership Summit is open and early registration discounts savings are currently available. Complete event information and registration savings can be found at www.robobusiness.com.
For sponsorship and exhibiting information, contact Rich Erb at rerb@ehpub.com or 508-663-1500 x331.
About Robotics Trends
Robotics Trends, a division of EH Publishing Inc, is the world's first integrated media company serving the burgeoning personal, service, mobile and industrial robotics marketplace. Robotics Trends serves its audience through two major business divisions:
Robotics Trends Publishing, which produces Robotics Trends (www.roboticstrends.com), an online news and information portal focused on robotics business and technology trends for people who build, buy, invest in, and seek to understand the personal, service, mobile and military robotics markets; Robotics Business Review (www.roboticsbusinessreview.com), a subscription media product providing primary research, analysis and market observations for the robotics and intelligent systems industries; and RoboNexus (www.robonexus.com), bringing robotics enthusiasts information about robotics and intelligent systems in a fun, friendly, informative way.
Robotics Trends Events, which produces the RoboBusiness Leadership Summit (www.robobusiness.com), and the Robotics Trends Summit Virtual Conference Series (www.robovirtualevents.com).
Featured Product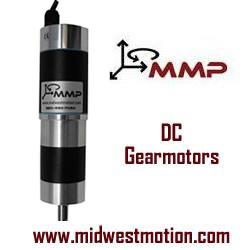 MMP is well known for our Lightning-Fast Delivery Capability, Huge On-Hand Inventory, High Volume Capacity and Time Tested and Proven Reliability Methods. Our 100+ years of combined work experience and being able to deliver continual committed service to design and engineer ideas into reality gives us a competitive advantage in the motion control industry. If you need a sample right away, we can be a project-saving convenience for you, so contact us today!!