Availability of One-Armed PR2 SE Expands Market for Personal Robot Platform
Willow Garage announced today the availability of a modified PR2 robot, the world's most advanced personal robot platform. In response to a burgeoning PR2 community Willow Garage is now offering its personal robot platform with a single arm for $285,000. The model will be known as PR2 SE. With the added 30% discount offered to individuals with a proven track record in contributions to the open source community, this integrated hardware and software platform becomes affordable for researchers receiving grants from such new programs as the NSF National Robotics Initiative. All PR2s now come with an updated sensor suite incorporating a Microsoft (News - Alert) Kinect device. PR2 SE can be upgraded with a second arm at a later time.

With approximately two dozen PR2 robots already deployed at commercial and academic research institutions around the world, today's announcement is expected to grow the PR2 community and advance the personal robotics industry. Through bi-monthly PR2 community conference calls and special gatherings at major robotics conferences, the benefits of newly-enabled collaborations, reproducibility, and code sharing are accelerating R&D in personal robotics.
While more limited in capability than its dual-arm sibling, this new PR2 increases the market by allowing more scientists and engineers to explore the innovative capabilities for personal robots at a much faster pace.
Bill Smart, Associate Professor of Computer Science and Engineering at Washington University in St. Louis is a recent PR2 owner. Professor Smart took delivery of his robot two weeks ago.
"From a standing start (robot off, never logged into a PR2 before), two of my graduate students were able to learn a map, get the navigational stack working, and drive the robot autonomously to the chair's office on the other side of the building in less than two hours," he reported. "I've been in robotics for about 20 years now, and this is the first time I've seen something work this well out of the box."
"The goal at Willow Garage is to lay the groundwork for a revolution in personal robotics by providing the hardware and software platforms upon which robot scientists can develop applications," according to Steve Cousins, President and CEO of Willow Garage. "The introduction of PR2 SE will only help to grow an already passionate community of researchers, engineers and robotocists."
The combination of PR2 and the open source Robot Operating System (ROS) means that researchers benefit from immediate time to innovation. Right out of the box, the PR2 and ROS provide a complete, integrated hardware and software platform for research and development in the personal robotics field. In the past, researchers had to spend a substantial amount of their time building a robot and its operating system before they could start designing and deploying applications for personal robotics use in homes and offices.
PR2 was first delivered to eleven leading robotics research institutions at no cost in May 2010. In September, Willow Garage announced that the PR2 was available for purchase. On December 15, 2010, four institutions on three continents were announced as the first to purchase the PR2 robot. Since then, PR2 has expanded its presence into the U.K., Canada, and India as well as some institutions purchasing a second PR2 to further accelerate their research programs.
About Willow Garage
Based in Silicon Valley, Willow Garage is a company dedicated to designing robots, developing open source robotics software, and the advancement of the open source personal robotics community. Willow Garage has developed a hardware platform called the PR2 (Personal Robot 2), and an open source software platform called ROS (Robot Operating System). The ROS software that Willow Garage contributes is BSD-licensed, making it completely free for anyone to use and change and free for other companies to commercialize. A major goal is to enable robotics innovation and ensure that the adoption of robotic technologies is a transparent process with positive societal impact. Willow Garage actively engages research labs and companies as partners, collaborators, customers and advisors in the development of both their hardware platform and open source software, and also supports researchers who would not otherwise have the bandwidth or funding to open source their work. For more information, please visit: http://www.willowgarage.com and follow on Twitter @willowgarage.
Featured Product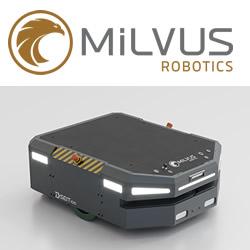 Enhance your material transport capabilities - even in the busiest warehouse or production environments - with SEIT robots. Made by Milvus Robotics, these reliable and safe AMRs efficiently move materials with no human intervention required. They work seamlessly alongside people, forklifts, and other equipment. Requiring no infrastructure, SEIT robots are suitable for a range of manufacturing environments, distribution centers and more.