GB Innomech (Innomech) is a Cambridgeshire-based engineering consultancy specialising in the automation of complex, hazardous or labour-intensive manufacturing and quality control processes in a range of markets including: pharmaceuticals, medical devices, automotive and food.
Innomech is one of the latest companies to participate in the ABB Global Partner Program and is now equipped to extend its offer to include more robot-based automation. The partnership will see both companies working together on projects to utilise ABB's extensive range of robotic solutions. In addition, Innomech will be provided with sales, marketing, technical, application and service support as well as software training for all employees.

Alan Spreckley, channel partner manager for ABBs robotics business comments, "Innomech is well-established and has a proven track record of success in major international markets such as pharmaceuticals and medical devices. By working closely together we can ensure that their customers get the most suitable robotic solutions for their needs, and provide the company with the opportunities to develop and expand its own brand, as well as help in further penetrating new markets."
Tim Mead, commercial director at Innomech comments, "ABB Robotics is one of the worlds leading suppliers of high performance industrial robots, we are delighted to have joined this partnership and have already begun to see the positive results. The UK demand for flexible, more automated and lower cost manufacturing is growing rapidly and we are increasingly being asked, even by smaller manufacturing companies, if we can develop robot-based systems that can help them remain cost competitive in a global economy.
"More and more companies are looking for automation systems that can be quickly and easily reprogrammed to handle short production runs and multiple products, while at the same time driving up quality and reducing manufacturing cost."
ABBs Global Partner Program is structured to enable further business opportunities between ABB partners providing global possibilities for business ventures.
For more information about partnering with ABB or the potential benefits of integrating robots into your production process, email robotics@gb.abb.com or call 01908 350 300.
About ABB Limited
ABB (www.abb.com) is a leader in power and automation technologies that enable utility and industry customers to improve performance while lowering environmental impact. The ABB Group of companies operates in around 100 countries and employs about 130,000 people.
About ABB Robotics
ABB Robotics - part of the ABB Group of companies - is a leading supplier of industrial robots, modular manufacturing systems and service. A strong solutions focus helps manufacturers improve productivity, product quality and worker safety. ABB has installed more than 190,000 robots worldwide and in applications ranging from high volume consumer electronics manufacture through to materials handling, finishing, packing and palletizing in the wood industry.
The companys UK offices are in Milton Keynes. For further information please see www.abb.com/robotics
Featured Product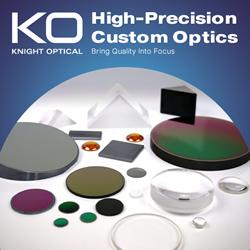 In the era of Industry 4.0, automation and machine learning drive the future. Knight Optical stands at the forefront, collaborating globally to supply precision optical components that power the robotics and automation sector. From UAVs, drones, and robotics to machine vision, LiDAR-driven car sensors, and renewable energy, our optics empower innovation. Optical components play an important role within the industry, including: Optical windows and domes safeguard systems in unmanned vehicles while preserving the field of view for cameras. Infrared lenses with aspheric surfaces elevate thermal imaging. Optical filters excel in machine vision, with colour glass, interference, and dichroic filters in our stock. Knight Optical provides stock components and custom solutions made to your exact specs. With every component undergoing rigorous metrology and QA checks before shipment, you are sure to experience true precision, innovation, and assurance.