DSEi 2011 - Events to be staged in the Robotics and Unmanned Systems Showcase
'UAV Systems Development - Challenges for ISTAR Support' is the title of a briefing to be given by Cranfield University's Professor Ian Poll. Cranfield Aerospace, a wholly owned subsidiary of the university, has a growing capability in the field of Unmanned Air Systems (UAS), with a proven track record in the development of innovative systems. From 11:45 to 12:30, Tues 13 Sept.

Under the heading 'UAV Hangars in Harsh Climes' Sprung Instant Structures's International Sales Manager, Jonathon Fenton, will report on a climate controlled hangar for one of the largest UAVs in operation which has been installed in one of the hottest places on the planet. From 14:00 to 14:30, Tues 13 Sept.
Accumulating flight hours faster than any other mid-endurance UAV System, Insitu's ScanEagle UAS is also the most employable, with a mission-readiness record exceeding 99 per cent. In Sustaining Scan Eagle's 500,000 Flight Hours - the Future of Unmanned Missions, Insitu's International Business Development Director Steve Tanner reviews this impressive capability between 14:45 and 15:15, Tues 13 Sept.
A demonstration entitled 'Foot Patrol in Afghanistan' featuring unmanned air and ground systems, will be staged twice daily at 10:30 and 15:30.
The Robotics and Unmanned Systems Showcase is located in the north west corner of the North Halls - nearest entrance N3.
For information on other seminars happening during DSEi visit http://goo.gl/Hmy3z.
These seminars are open to registered attendees of DSEi 2011. To register visit www.dsei.co.uk/register
Featured Product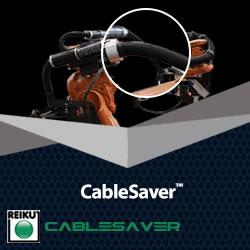 REIKU's Cable Saver™ Solution eliminates downtime, loss of revenue, expensive cable and hose replacement costs, maintenance labour costs. It's available in three sizes 36, 52 and 70 mm. All of the robots cables and hoses are protected when routed through the Cable Saver™ corrugated tubing. The Cable Saver™ uses a spring retraction system housed inside the Energy Tube™ to keep this service loop out of harms way in safe location at the rear of the Robot when not required. The Cable Saver™ is a COMPLETE solution for any make or model of robot. It installs quickly-on either side of the robot and has been tested to resist over 15 million repetitive cycles.