Robot integrator and reconditioning company RobotWorx now offering businesses custom-fit robotic workcells.
Ohio-based robot company RobotWorx recently added a custom robotic workcell listing to its website, robots.com. This flexible option makes it possible for businesses to customize any and every element of a robotic workcell to meet application, product, environmental, and even budgetary requirements.

"There is a demand for workcell systems that speak to individual product and setting needs," said RobotWorx President Jarrod Bichon. "Cookie-cutter robot systems dont work for every situation. Our customized workcells offer an extremely versatile alternative."
RobotWorx' custom robotic workcells include all the standard components: industrial robots, controls, positioners, and safety features. However, each component can be tailored to fit unique criteria. RobotWorx integration team is up to any challenge whether it is designing a cell with an extremely compact footprint or configuring a system that works with specific conveyor arrangements.
Positioners, responsible for keeping or bringing products within a robots work envelope, range from static or rotating worktables to headstock and tailstocks. Customized robotic workcells can be outfitted with the customers choice of new or reconditioned robots, peripherals, and safety features. Reconditioned robot arms and other workcell parts can effectively reduce the overall cost of a system.
As a Motoman Solution Provider, FANUC Authorized System Integrator, and KUKA Robotics System Partner, RobotWorx carries standard workcells such as the Motoman ArcWorld systems. In addition, RobotWorx has designed its own line of turnkey robotic workcells. These RobotWorx systems currently include the RW900, RW1000, RW1050, RW1050S, RW1450 and RW2450. While each of these systems accommodate a certain degree of customization, RobotWorx custom workcell option makes it clear this robotic integration company invites requests for less conventional systems.
About RobotWorx: RobotWorx integrates new and reconditioned industrial robot systems for customers in a variety of industries, including food production, plastics, electronics, military, and manufacturing. RobotWorx offers reliable, top-quality solutions for applications ranging from welding, plasma cutting, and deburring, to machine tending and assembly. Find out more about RobotWorx by visiting http://www.robots.com or calling 740-383-8383.
Featured Product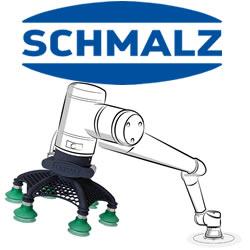 In order to interact with their environment and perform the tasks, lightweight robots, like all industrial robots, depend on tools - and in many cases these are vacuum grippers. These form the interface to the workpiece and are therefore a decisive part of the overall system. With their help, the robots can pick up, move, position, process, sort, stack and deposit a wide variety of goods and components. Vacuum gripping systems allow particularly gentle handling of workpieces, a compact and space-saving system design and gripping from above. Precisely because the object does not have to be gripped, the vacuum suction cupenables gapless positioning next to each other.