Schilling Robotics, LLC, experts in subsea systems, and Gregg Marine, Inc., experts in drilling and geotechnical testing services, announced today the successful completion of the field testing of their subsea drill in the waters offshore of Vancouver, British Columbia.
The Seafloor Drill was conceived by John Gregg, owner of Gregg Marine, and completed its Factory Acceptance Testing at Schilling Robotics in June 2011. The four week sea trials took place last month in St. Vincent's Bay outside of Vancouver, Canada, in water depths up to 250 meters. The sea trials allowed Gregg to work closely with Schilling technicians to fine tune the control systems and train the drill's operators. The drill testing has exceeded Gregg's expectations, as well as the clients that attended the demonstrations.

When speaking of the sea trials, John Gregg commented, "The seafloor drill system is a complex and expanded technology over the current systems in the market today. By leveraging the proven technologies by Schilling Robotics, the Seafloor Drill offers robust telemetry and controls that will maximize the efficiency and effectiveness of the system. To demonstrate our confidence, we invited our industry colleagues to the sea trials in order to see the demonstrations first hand." The drill was able to successfully retrieve core samples of both unconsolidated soft sediment as well as granitic rock. Many in attendance were impressed with the flexibility of the drill compared to other equipment on the market. One of the clients for a major US energy company remarked that "Not many companies are willing to open themselves to outsiders during such an important phase of their development program. It appears to me that the team has put a lot of thought into the design of these tools and I am certain it will pay off with many successful projects."
The system is currently being mobilized to drill near Australia where it will begin work in the coming months. "I am very thankful to Apache Oil for the Seafloor Drill's first job. Their commitment to innovation is shown in their excitement about the system," said Gregg. "We are pleased that the sea trials for the Seafloor Drill were successful," said Tyler Schilling, CEO of Schilling Robotics. "With this technology, and the Cone Penetration Testing unit, Gregg Marine is uniquely equipped for seabed sampling worldwide."
About Schilling Robotics, LLC Schilling Robotics is a leading global, deep-ocean robotics company founded in 1985. Schilling is headquartered in California U.S.A. and has regional offices in Texas, U.S.A., Aberdeen, U.K., and Singapore. Since late 2008, FMC Technologies, Inc. has held a 45% interest in Schilling. FMC Technologies, Inc. (NYSE:FTI) is a leading global provider of technology solutions for the energy industry. FMC Technologies designs, manufactures, and services technologically sophisticated systems and products, such as subsea production and processing systems, surface wellhead systems, high pressure fluid control equipment, measurement solutions, and marine loading systems for the oil and gas industry. Further information about Schilling Robotics can be found at www.schilling.com.
About Gregg Marine, Inc.
Gregg Marine, Inc. was formed from the existing marine division of Gregg Drilling & Testing, Inc., to focus specifically on meeting the increasing demand for quality offshore drilling and sampling services. Since 1985, has been widely recognized as a leader and innovator in drilling, sampling, and subsurface investigation, providing clients in industry and government with the highest quality services. Gregg set the standard among drilling companies through the pursuit of one simple goal: To provide clients with high-quality, innovative services performed in a timely and cost-effective manner.
In addition to offshore geotechnical drilling, Gregg Marine leverages Gregg Drilling's extensive experience developing state-of-the-art cone penetration and direct-push technologies, including the 3000msw-rated Seafloor CPT System. Gregg Marine's ability to combine cutting-edge equipment, advanced technologies and innovative thinking sets it apart and creates exceptional performance and value time after time. Gregg Marine is based in Moss Landing, California U.S.A., with corporate headquarters in Signal Hill, CA, and regional offices in Martinez, California, East Palo Alto, California, and Livingston, Texas. Further information about Gregg can be found at http://www.greggmarine.com.
Featured Product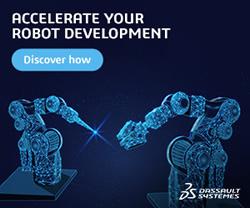 The 3DEXPERIENCE platform on the cloud provides robotics companies with a unified and collaborative solution to manage their end-to-end process in an effective way by bringing together all teams and disciplines involved and guarantee digital continuity during the entire product lifecycle. Connect the dots from robot design to marketing activities, from production to maintenance and bring your robot to market up to 30% faster!