Two new industrial-grade panel control models have been introduced by Bourns - a push-pull switch and a rotary switch.
The Model 54 is a new half-inch panel control and is an extension of the Model 51/53 Series with an added double-pole, double-throw (DPDT) push-pull switch module. Secondly, the Model 56 is a new half-inch panel control and is also an extension of the Model 51/53 Series with an added single-pole, double-throw (SPDT) rotary switch module.

Both new products are high-performance alternatives to readily available consumer-grade potentiometers with push-pull and rotary switches. Developed to match the requirements of a broad range of industrial, medical and aerospace / avionics applications, the new panel control models are particularly well-suited for use in test and measurement and communications equipment. The Model 54 is also seen as an optimal solution for medical diagnostic and professional audio equipment, while the Model 56 is designed for use in avionics controls and medical laboratory equipment.
The RoHS compliant models measure 12.5mm and feature metal bushings and shafts, splash seals and a wide range of linear and audio resistance tapers. Rotational life for both models is 50k cycles with contact resistance at 100mohm for Model 54 and 30mohm for Model 56, says the company.
"Bourns' new industrial grade panel controls are significant because they provide the flexibility of a panel control plus push-pull switch or rotary switch in one compact component. In addition, the splash seal provides protection from moisture ingression in a wide variety of applications," said Chuck Manzano, product specialist, Bourns. "The new panel controls provide designers with high-performance alternatives to consumer-grade potentiometers, providing end customers with enhanced reliability and improved performance as required by industrial, medical and avionics applications."
Featured Product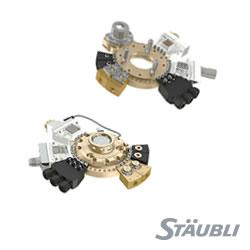 Stäubli is a pioneer in the construction and development of robotic tool changing systems. Our customers benefit from our many years of expertise in all industry sectors, as well as our modular product concept, which offers three efficient solution paths: MPS COMPLETE offers preconfigured robotic tool changers for immediate use. MPS MODULAR allows the user to determine the configuration, while MPS CUSTOMIZED allows the construction of special, application-specific systems.