FPGA-based boards provide exceptional I/O capabilities; different video outputs
Chatsworth, Calif. August 2011 - Aitech Defense Systems Inc., a pioneer in true military embedded and mission critical computing technologies and an independent manufacturer of open architecture boards and subsystem products for defense and aerospace applications, has expanded its family of M59x graphics boards designed for a wide variety of rugged avionics applications with the M595 PMC and M597 XMC .

These high performance, rugged boards simultaneously drive two independent video streams in a wide variety of graphics and output formats for flexible video input and frame grabbing formats to meet users' specific application needs.
Both single-width mezzanine boards integrate multiple supporting 2D/3D hardware engines, such as graphics language accessories, parallel processing engines and video and audio decompression units and complex 3D shading algorithms to support the most advanced graphics and video format standards. This includes LVDS, SDI, HDI, SMPTE 292 and H.264 and graphics languages including DirectX, OpenGL and OpenCL.
The new M595 and M597 use the advanced AMD/ATI E4690 graphics processing unit (GPU) operating at 600 MHz with a 512 MB on-chip GDDR3 SDRAM frame buffer. The E4690, which enables multiple video outputs from its native video ports eliminating the need for external transmitters or encoders, works with an integrated, on-board FPGA to support a wide variety of additional video output formats, overlay, underlay and keying features as well as multiple video input formats and signal conditioning options.
The M595, a dual-head display XMC, transfers graphics and video to the host system via a high speed eight port PCIe link. Interfaces include two RGBHV (CRT) channels, an HDTV/TV out port, an LVDS channel and four single-link DVI/HDMI/DP channels through the E4690.
The FPGA, which accepts video via the LVDS and converts it to different formats, supplements the native interfaces with a second HDTV/TV channel, an SDI output port and two STANAG 3350 RGBHV/RGsB channels.
In addition to the capabilities of the M595, the M597, a dual-head graphics and video PMC adds advanced video functions with analog and digital video input and overlay for exceptional flexibility via 100 MHz connectivity using a 64-bit PCI-X bus. While graphics are being generated in the GPU and overlaid onto one video input for display, a second independent overlay process can run for the second input stream and be delivered on the unique SDI output.
Doug Patterson, VP, Military and Aerospace Business Sector, noted, "The M597 is ideal for customers currently using VMEbus and CompactPCI, but still need to upgrade their 2D/3D graphics and imaging capabilities for their next generation systems. The M597 brings all the graphics and imaging power, performance and functionality of the M595 to the stable, proven PMC standard."
Video outputs on the M597 include three digital outputs configurable as any combination of DVI, HDMI or DP as well as an HD/SD SDI port, an RGBHV port and an RGBHV/composite/S-video port. Inputs consist of a STANAG 3350 RGB input, two HD/SD SDI inputs, eight RS-170/NTSC/PAL multiplexed composite inputs and a DVI input.
Comprehensive DO-178B/ARINC-compliant software to meet all PMC/XMC and graphic processor capabilities is already adapted to support multiple operating systems and processor architectures. Both boards implement an AMD/ATI BIOS for compatibility with x86 and several Linux operating systems. In addition, a third party OpenGL package is available for other OS/RTOS and PowerPC architectures. Support is included for Windows, Linux, Wind River VxWorks and Greenhills INTEGRITY.
Both these DO-178/DO-254 certifiable mezzanine products are available in vibration and shock resistant versions as well as in conduction-cooled and air-cooled versions and to commercial, rugged and military specifications with a maximum operating temperature range of -55°C to +85°C.
For programs requiring multiple high definition graphics displays, Aitech provides the M560 series of graphics and imaging products to support up to eight independent displays in a single 6U slot.
For more information please call 888-Aitech-8 (888-248-3248), visit http://www.rugged.com/defensepmcs.htm or e-mail sales@rugged.com.
Featured Product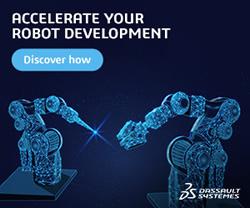 The 3DEXPERIENCE platform on the cloud provides robotics companies with a unified and collaborative solution to manage their end-to-end process in an effective way by bringing together all teams and disciplines involved and guarantee digital continuity during the entire product lifecycle. Connect the dots from robot design to marketing activities, from production to maintenance and bring your robot to market up to 30% faster!