Partners collaborate to bring greater flexibility to robotic automation applications with adaptive gripper tooling utilized on high quality robots.
Robotiq, a manufacturer of Adaptive Robotic Grippers, and the Motoman Robotics Division of Yaskawa America, Inc., a leading industrial robot manufacturer, today announce they have formed a strategic partnership. Robotiq's Adaptive Gripper has been added as a complimentary partner product to Motoman Robotics' product line. Through this alliance, the companies will deliver dexterous robotic gripper tooling on robots that will increase application flexibility and reduce tooling costs.

The industrial-grade Adaptive Gripper has three articulated fingers that can adapt automatically to a wide range of parts of varying size and shape. The end-of-arm-tooling is best suited for applications where tens of hundreds of different parts need to be handled by a single robot. Sample applications include: machine load / unloading, assembly, part positioning, welding, inspection and material handling.
Customers can leverage Motoman Robotics as a single-source supplier of robots and tooling, extending value to customers. "There is a reason why the Adaptive Gripper is the first standard gripper product that Motoman Robotics offers. Its unique capabilities get us out of the custom tooling approach traditionally used. Combined with our robots and vision systems, it will enable material handling and kitting applications for our customers, simplifying their lives and saving them money," states Roger Christian, vice president of Motoman Robotics.
Robotiq's President, Samuel Bouchard adds, "This close collaboration provides customers with new capabilities and a way to adapt to rapidly changing production needs. Now they can reprogram one gripper instead of retooling for different parts."
Get more information and watch a video of the gripper in action.
About Robotiq
Robotiq is a robot components manufacturer based in Quebec City, Canada. It is a privately funded company founded in 2008. Visit our website at http://www.robotiq.com or call 1-888- (762-6847).
About Motoman Robotics Division
Founded in 1989, the Motoman Robotics Division of Yaskawa America, Inc. has grown to become the second largest robotics company in the Americas with an installed base of more than 30,000 units. Its products include robotic automation solutions for virtually every industry and robotic application, including arc welding, assembly, coating, dispensing, material handling, material cutting, material removal and spot welding operations. For more information please visit our website at http://www.motoman.com or call 937.847.6200.
Featured Product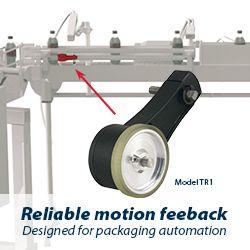 EPC is excited to announce our NEW online 3D Configurator. This new tool makes it even easier to configure EPC's products exactly how you need them for your application. The 3D Configurator interface is intuitive and works in any web browser for both desktop and mobile. It'll only take you a moment to learn your way around the program. Careful, though: it's so fun to play with, you may spend a whole afternoon on it!