Showcases Enhanced Private/Public Cloud Integration with Amazon EC2, Expanded VDI Capabilities
BURLINGTON, Mass, August 24, 2011 - DynamicOps, the only provider of the Operations Virtualization™ platform enabling unified cloud automation and management, today announced that it will debut its newly announced upgrade to the award-winning DynamicOps Cloud Automation Center at VMworld 2011, Las Vegas, Nevada, August 30-September 1, 2011. Attendees are welcome to visit booth #1341, where DynamicOps will showcase the extended platform capabilities for private cloud and virtual desktop infrastructure (VDI) implementations, as well as private cloud integration with Amazon Elastic Compute Cloud (EC2).

"Savvy enterprises that are considering cloud computing realize they need a solution that can easily and cost-effectively evolve. This means enabling them to rapidly create and extend a private cloud that spans servers and desktops, allowing them to burst to the public cloud while adhering to the same policies as the private cloud, and future-proofing their infrastructure so they can leverage technology advancements," said Rich Krueger, CEO of DynamicOps. "DynamicOps Cloud Automation Center was designed to make all of this possible, and with its new capabilities and extended options, we make it even easier."
The company unveiled new support for Amazon EC2 and expanded support for the physical and virtual resources comprising a cloud infrastructure:
DynamicOps Public Cloud Gateway: Amazon EC2 Support
Deploy virtual machines in Amazon EC2 via DynamicOps' self-service portal-unifies public and private cloud capacity under a single governance model based on a customer's unique systems and processes including implementation of budget-based limits on resource usage and generating chargeback and capacity reports.
Cisco UCS, Dell and HP Servers through DynamicOps Physical Resource Manager
Discover, provision and manage Cisco UCS servers via Cisco UCS Manager, Dell servers via Dell iDRAC, and HP servers via HP iLo.
Transform XenDesktop-based VDI into a Virtual Desktop Cloud
Extended integration for XenDesktop 5 enables automated, end-to-end control of the virtual desktop lifecycle and makes it easy to transform VDI into virtual desktop cloud.
VMware vSphere 5
Continued commitment to supporting the VMware platform with vSphere 5.
New Image Deployment Options
New options that extend DynamicOps' already robust alternatives for operating system and application deployments include leveraging Microsoft System Center Configuration Manager and PXE Boot.
To see DynamicOps Cloud Automation Center in action, stop by booth 1341 at VMworld 2011.
About DynamicOps
DynamicOps provides an Operations Virtualization™ platform that enables enterprise IT to evolve existing infrastructure into on-demand private and public cloud services in days, achieving unparalleled time-to-cloud and responding to market dynamics faster and more economically than ever. Enterprises imprint their own way of doing business on the cloud by leveraging existing, cross-organizational processes while having the freedom to easily interchange technologies, creating a best-of-breed, multi-vendor solution. DynamicOps Cloud Automation Center unifies the management ecosystem providing end-to-end governance, self-service capabilities and an orderly extension to the public cloud. Using DynamicOps Cloud Development Kit™, enterprise IT is furthered empowered to create next-generation cloud services. Recently named "Cool Vendor in Cloud Management" by Gartner Research, DynamicOps is privately held and based in Burlington, MA. www.dynamicops.com.
Featured Product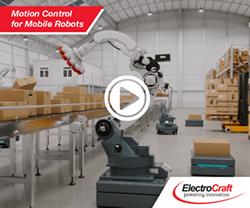 ElectroCraft is showcasing its award-winning mobile robot technology including their powerful and compact wheel drives, high-torque-density brushless DC motors, precision linear actuators as well as servo motor drive technology at a variety of conferences and tradeshows including the Boston Robotics Summit. Robotics Summit is the premier symposium for the sharing of ideas, technology, and market developments for robotic technologies across industries. Beyond a showcase and pitch of product, ElectroCraft is eager to participate in the collaborative discussion of challenges and opportunities that will shape the near and long-term robotic marketplace.