Hillcrest Labs today unveiled its second-generation family of user interface solutions that pave the way for a wide range of products to incorporate state of the art natural user interfaces (NUIs).
ROCKVILLE, Md., Aug. 31, 2011 /PRNewswire/ -- Hillcrest Labs today unveiled its second-generation family of user interface solutions that pave the way for a wide range of products to incorporate state of the art natural user interfaces (NUIs). During the past decade, Hillcrest's research and development team delivered Freespace, a leading natural motion control technology, to a wide range of the CE industry's leaders, along with a suite of interactive TV applications. Hillcrest has more than 50 issued patents, with more than 200 applications pending, for its ground breaking technology, and has received numerous accolades for its products. In its tenth year of operations, Hillcrest has designed its newest products to make the integration of natural user interfaces possible in a wide range of markets, such as television and digital media, smart boards, virtual reality systems, and many others.

For customers who need the most flexibility, the new Freespace MotionEngine™ provides a fully featured motion software stack that simplifies integration of inertial and magnetic sensors for a variety of uses. For customers who want to incorporate a completely designed motion sensor solution, Hillcrest offers a family of new sensor modules. These physical devices come in a variety of configurations that include various combinations of MEMS motion sensors, motion processors, and appropriate APIs. Hillcrest also offers fully designed reference remote controls for those companies that have limited in-house design services, leveraging Hillcrest's expertise in industrial design, MEMS electronics, and mass scale manufacturing.
"We offer the broadest suite of motion products available from any single supplier today," said Dan Simpkins, founder and CEO of Hillcrest Labs. "Nearly 10 years ago, our vision was to use a motion pointing interface to control interactive TV, and today our vision has become a reality. Our new product portfolio gives our customers maximum flexibility to incorporate Freespace motion control into their products and accelerate their time to market."
Hillcrest's motion solutions, based on Freespace technology, simplify the design of motion enabled products. Today's new product portfolio gives more companies low cost, high performing, and highly scalable motion solutions for their future product lines. Customers can access Hillcrest's design know-how to effectively use inertial and other sensors in a wide range of applications.
An Unparalleled Portfolio of Motion Products
From software to completed designs, Hillcrest offers an unmatched suite of motion solutions, with global expertise in software, hardware, MEMS, DSP, industrial design, mechanical design, and manufacturing. Hillcrest's new family of products includes:
Freespace MotionEngine: Hillcrest's new product, the Freespace MotionEngine, is an embedded software platform that provides an integrated solution to enable MEMS inertial and magnetic sensors to work effectively and consistently in mass production. Hillcrest's patented motion control software platform provides a sensor-agnostic solution for motion control devices using accelerometers, gyroscopes and magnetometers (compasses) in a variety of configurations. The MotionEngine software can be licensed for integration into a customer's hardware, or it can be purchased as part of a module or remote control offered by Hillcrest. The key functions of the MotionEngine are sensor fusion, calibration, 3D device motion, gestures, and cursor control, which are implemented with sensors from a variety of the leading MEMS suppliers. This latest release is a modular software solution that can run on an embedded microcontroller or host processor, which provides greater implementation flexibility than its predecessor. For remote controls and game controllers, this enables the MotionEngine to run on the controller, on a USB dongle, or directly on a TV or set-top box system-on-a-chip (SoC). Motion data processed by the MotionEngine is delivered using a standards-based API and is compatible with USB, Bluetooth, RF4CE, and other RF protocols. The Freespace MotionEngine is the same software embedded in the new line of Roku 2 streaming media players and LG's Smart TVs. Key applications include: TV remote controls, game controllers, mobile phones, and more.
Freespace Sensor Modules: For companies that want to easily integrate motion control into their own products, Hillcrest launched a line of new embeddable modules. Examples include the FSM-SENS-1, a 6-axis sensor-only module that integrates with an external Freespace MotionEngine, and the FSM-SI-2, which combines the Freespace MotionEngine on an embedded microprocessor along with a 3-axis digital gyroscope, 3-axis digital accelerometer and optional 3-axis magnetometer (compass) to provide high-performance, calibrated motion data for a variety of applications. Freespace Sensor Modules are used by engineers to add inertial motion control to a product without having to learn about motion sensing or MEMS. These compact modules, the smallest of which is 9mm x 19mm x 2.5mm, are pre-calibrated for mass production, provide a well-documented API for interpreting motion, and provide data such as cursor position, linear acceleration, angular position, and angular velocity to enable the creation of novel applications. Key applications include: remote controls; virtual/augmented reality headsets; HMDs (head-mounted displays); robotics; industrial automation; and motion analysis for sports, fitness and medical diagnostic products.
The Scoop™ Pointer: The Scoop pointer is a second-generation in-air mouse with 6-axis motion control, which interfaces wirelessly to any PC, Mac, or USB HID compatible device through a USB dongle. This new OEM product is a reference design that will be available in the fourth quarter to companies that need a complete off-the-shelf device for their consumers. It will replace the Loop™ pointer and includes numerous enhancements, such as a smaller and lighter form factor, new chipset and firmware for lower costs and better performance, nine programmable buttons and a scroll wheel, and full 6-axis control to enable better gesture and game play. There are two versions of the Scoop pointer, one optimized for TV viewing, and one with a red laser pointer designed as a handheld wireless presenter. Hillcrest has already signed agreements with CE manufacturers that will bring the Scoop pointer to market later this year, under their own brand names. Hillcrest does not intend to sell the Scoop pointer directly to consumers.
In addition to its newest products, Hillcrest continues to offer several Freespace Reference Kits (FSRKs) to give product designers and software developers all the components, tools, and documentation needed to rapidly prototype motion control devices.
Motion Applications for TV
In addition to the company's Freespace motion solutions, Hillcrest has proven experience that combines natural user interface expertise with application development. Hillcrest helps customers create applications that effectively use natural user interfaces based on Freespace motion technology. For example, Hillcrest developed HomeCast™, a Smart TV application currently used by LG, which aggregates Internet video podcasts and allows users to navigate with a Freespace-based remote. Today, the company also introduced a customizable OEM version of its Kylo Web browser for TV, concurrent with the launch of a new version of Kylo for consumers.
Kylo Browser for OEMs and Consumers: Hillcrest introduced today a customizable version of Kylo, the Web browser for TV, designed for OEMs that sell Mac- or PC-based hardware platforms or accessories. This new version enables companies to create custom home screens and features. Hillcrest also disclosed today that a number of companies plan to launch their own branded versions of Kylo later this year. The Kylo browser is not meant to replace traditional browsers such as Internet Explorer, Safari or Firefox for use with standard computer display screens, but instead is for use on a TV connected to a computer. Compared to conventional browsers, the Kylo browser provides more on-screen viewing space and less visual clutter, larger fonts and buttons for easy viewing and navigation from across the room, an easy-to-use on-screen keyboard, and zoom-and-pan capability for enhanced viewing. When used on TV, Kylo is best controlled with a Freespace device like the Scoop pointer. For consumers, Hillcrest today released the latest version of Kylo (Kylo 1.0), which is available for free at www.kylo.tv. This new version now supports viewing in 1080p and uses a new Mozilla rendering engine that enables faster JavaScript performance, HTML 5 support, and CSS3 support. Kylo is best used for consumers who connect PCs and Macs to TVs, Microsoft Windows-based set-top boxes, interactive classrooms, business presentations, and interactive kiosks that require a Web interface.
Additional information about Hillcrest Labs can be found at www.hillcrestlabs.com. Follow Hillcrest Labs on Facebook at www.facebook.com/kylobrowser or Twitter at www.twitter.com/kylotvbrowser.
About Hillcrest Labs
Hillcrest Laboratories (a.k.a. Hillcrest Labs) sells natural motion technology and software applications to consumer electronics manufacturers, service providers, and consumers that enable unique, interactive digital media experiences for TVs and other digital media devices. Hillcrest Labs sells and licenses its in-air pointing and motion control technology, called Freespace, for use in a wide range of consumer devices including remote controls and game controllers for Smart TVs, streaming media players, Blu-ray players, set-top boxes, PCs, and tablets. Companies that have licensed Hillcrest Labs' technology for use in their products include: Eastman Kodak, LG Electronics, Logitech, Roku, SMK, Sony Computer Entertainment Inc., Universal Electronics (UEI), and others. For consumers, Hillcrest Labs also offers the Kylo browser, a free Web browser for TV. Hillcrest Labs has received numerous awards and recognitions including the prestigious CES Innovations Honoree Award on three separate occasions, PC World's 100 Best Products and Greatest Tech Designs, Popular Mechanics' Editors Choice, ECN's Reader's Choice Tech, and many others. For additional information, visit www.hillcrestlabs.com.
Featured Product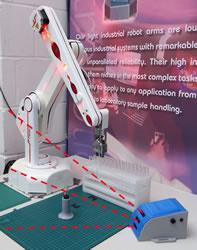 The ST Robotics Workspace Sentry robot and area safety system are based on a small module that sends an infrared beam across the workspace. If the user puts his hand (or any other object) in the workspace, the robot stops using programmable emergency deceleration. Each module has three beams at different angles and the distance a beam reaches is adjustable. Two or more modules can be daisy chained to watch a wider area. "A robot that is tuned to stop on impact may not be safe. Robots where the trip torque can be set at low thresholds are too slow for any practical industrial application. The best system is where the work area has proximity detectors so the robot stops before impact and that is the approach ST Robotics has taken," states President and CEO of ST Robotics David Sands.