PCL 1.1.1 is a patch release, API compatible with 1.1
Here's a few of the release highlights:

Issues fixed: #224, #277, #288, #290, #291, #292, #293, #294, #295, #296, #297, #299, #302, #318, #319, #324, #325, #329.
fixed a segfault in PCLVisualizer::addPointCloudNormals
fixed PCLVisualizer hanging on 'q' press
fixed a bug in MLS
fixed a bug in test_io
fixed a bug in PointCloudColorHandlerGenericField
fixed a bug when writing chars to ASCII .PCD files
fixed several errors "writing new classes" tutorial
added missing parameter setter in the "concave hull" tutorial
Featured Product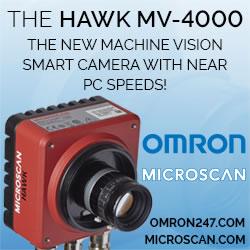 Awe-inspiring power and superior flexibility is sheathed within the contoured casing of the HAWK MV-4000. This smart camera builds upon the previous generation by quadrupling processing power and achieving real-time trigger response using an FPGA. Its state-of-the-art algorithms make it an excellent tool for any industry, whether the requirement be code reading, code verification, inspection, guidance, gauging or a combination of all four.