PCL 1.1.1 is a patch release, API compatible with 1.1
Here's a few of the release highlights:

Issues fixed: #224, #277, #288, #290, #291, #292, #293, #294, #295, #296, #297, #299, #302, #318, #319, #324, #325, #329.
fixed a segfault in PCLVisualizer::addPointCloudNormals
fixed PCLVisualizer hanging on 'q' press
fixed a bug in MLS
fixed a bug in test_io
fixed a bug in PointCloudColorHandlerGenericField
fixed a bug when writing chars to ASCII .PCD files
fixed several errors "writing new classes" tutorial
added missing parameter setter in the "concave hull" tutorial
Featured Product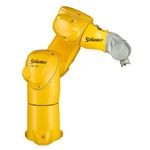 TX2 robots: redefining performance by offering collaborative safety and high performance in a single machine. These pioneering robots can be used in all areas, including sensitive and restrictive environments, thanks to their unique features. Safety functions are easy and inexpensive to implement. They allow a higher level of interactions between robots and human operators, while still guaranteeing protection of your people, production and investment.