Vision Guide facilitates small-lot production and high-precision assembly
Seiko Epson Corporation ("Epson", TSE: 6724) today announced it would in September launch sales of the Vision Guide, an image processing system for high-speed, high-precision detection of the shape, position, and alignment of work being processed by industrial robots.

Epson created the new product in response to labor shortages and the need for greater production efficiency and stable quality in emerging nations that volume-produce the vast majority of smartphones, electronic automotive components, and other small electronic gear. Such demand has caused industrial robot demand to skyrocket among companies looking to significantly boost throughput.
When using standalone industrial robots for repetitive work, manufacturers often find it necessary to install a special device that works in combination with the robot to ensure that work in progress in front-end processes has been accurately aligned. Because of this, many companies performing small-lot tasks are forced to employ special equipment to detect the position and alignment of the work, and must change this equipment for each item produced.
Because of this situation there is growing industry demand for image processing systems that can detect the position and alignment of the work and ensure that plant operations can continue even if the work is not in the correct position.
"Epson is the world's leading producers of SCARA robots*," said Hideo Hirao, responsible for Epson's Factory Automation Division. "We developed the Vision Guide to answer customer needs for an option to optimize use of Epson's robot range. Using the high-speed, high-precision Vision Guide with an industrial robot provides customers with greater flexibility in establishing production lines, and facilitates greater efficiency in small-lot production without the use for special equipment to detect the position of work."
Characteristics of the Vision Guide image processing system
Reasonable price and high performance
The Vision Guide is an image processing system for robots based around a function for determining the position of work being assembled or transferred. It's recommended for customers seeking improved efficiency in small-lot production.
High speed and high precision
The Vision Guide requires less 0.01 seconds or less to recognize each piece of work, and 0.16 seconds or less for 10 pieces. A recall ratio of 99.8%, which indicates high accuracy, ensures that the Vision Guide contributes to improved productivity and stable quality.
Ideal for use with Epson robots and controllers
The Vision Guide includes a camera that is suited for use with a wide range of Epson robots and controllers. Easy to setup, it is ideal for customers using this type of equipment for the first time
Epson sees the commercial and industrial sector, as well as emerging economies, as important growth markets. Going forward, Epson will continue to introduce products that meet the needs of the market, strengthen local customer support, and work even harder to meet customers' growing expectations.
* Epson recorded the industry's highest revenue from shipments of industrial SCARA robots in 2010 (according to Fuji Keizai's 2011 research report about the current and future situation in the global robot market).
Featured Product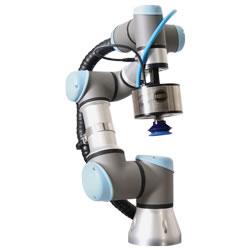 The Collaborative Robot Vacuum Tool (CRVT) from Bimba adds unparalleled flexibility to your collaborative robot. The standard CRVT is highly configurable to meet your application needs, but simple to install and operate. This fully integrated tool means all you need to supply is compressed air and a signal to control the valve. A variety of standard and custom options make the Bimba CRVT the perfect tool for your next collaborative robot project.