Seasoned veteran Quinton Rodgers to head strategic vision and market development
Chatsworth, Calif.September 2011 - Aitech Defense Systems Inc., a pioneer in true military embedded and mission critical computing technologies and an independent manufacturer of open architecture boards and subsystem products for environmentally-demanding defense and aerospace applications, has hired Quinton Rodgers as vice president, space business sector. Effective September 6, Rodgers will assume his role to help meet the growing needs of this vital business unit.

Moshe Tal, Aitech's CEO, noted, "With as accomplished a career as Quinton has, both in the private and military sectors, he is extremely well equipped to hone in on key issues within the space industry. With his extensive knowledge, we will expand our space technology roadmap to continue developing products and technologies that will greatly enhance our customers' space programs. His leadership abilities will benefit our company as a whole."
By applying his more than ten years of experience with The Boeing Company, Rodgers will drive long range business planning for all areas of Aitech's space business, which extends from low- and high-earth orbit to deep space applications. He will also define market requirements for new products in terms of cost targets, hardware, software and related industry standards requirements.
His tenure at The Boeing Company included consulting and advising teams working with the International Space Station Program in positions such as senior project engineer and senior manager of avionics development projects. His work in these areas earned his project team a NASA Exceptional Software of the Year Award as well as a NASA Process Improvement of the Year Award.
In addition to Boeing, Rodgers spent two decades as director, planning and performance management with its subsidiary, Rockwell International, where he focused on cost and performance efficiencies to enhance deliveries to customers. He worked as a product line manager with TRW (now Northup Grumman) handling an extensive line of space communication products as well.
Rodgers served as a captain in the United States Air Force's Space Command Headquarters, where he authored and coordinated the joint service requirements for a multi-billion dollar distributed defense system, approved through the Joint Chiefs of Staff Office. He is currently a member of the Air Force Association.
For more information please call 888-Aitech-8 (888-248-3248), visit http://www.rugged.com or e-mail sales@rugged.com.
Featured Product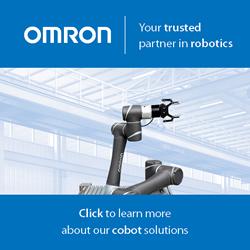 Humans and robots can now share tasks - and this new partnership is on the verge of revolutionizing the production line. Today's drivers like data-driven services, decreasing product lifetimes and the need for product differentiation are putting flexibility paramount, and no technology is better suited to meet these needs than the Omron TM Series Collaborative Robot. With force feedback, collision detection technology and an intuitive, hand-guided teaching mechanism, the TM Series cobot is designed to work in immediate proximity to a human worker and is easier than ever to train on new tasks.