Proven applications for shipping and packing sortation operations increase productivity, accuracy and on-time shipments
(CINCINNATI: Aug.25, 2011) Intelligrated (www.intelligrated.com), a leading North American-owned automated material handling solutions provider, announces the launch of new shipping and packing sortation software packages as part of the InControlWare warehouse control software suite. The field-proven ShipSort™ and PackSort™ applications, designed to manage high-speed tilt-tray and cross-belt sortation systems, allow operations to manage people, processes and product flow for increased productivity, accuracy and on-time shipments. The software combines advanced sortation functions with comprehensive warehouse control, eliminating the challenge of integrating applications from multiple equipment suppliers.

InControlWare ShipSort, ideal for use in distribution, e-commerce, postal and parcel operations, provides comprehensive routing and controls management for shipping sorter applications. Advanced ShipSort software features include intelligent item and container routing, induction and chute management, multiple chute selection strategies, and configurable exception processing.
InControlWare PackSort is designed for order fulfillment applications including returns, direct-to-consumer and packing operations with full support of pre-allocated or supply and demand item allocations. PackSort is well-suited for multipurpose distribution centers, where the sortation system is a crucial part of the distribution channel. Key software capabilities include inbound and outbound queue management, wave creation and management, item allocation to orders, directed packout operations, and inventory and item management.
"InControlWare ShipSort and PackSort will help our customers to better control their sortation systems as integrated components of their entire operation," said Gene Billings, director, software products, Intelligrated. "ShipSort and PackSort provide our customers with access to a single, integrated solution that can expand to meet their future warehousing and fulfillment needs."
The ShipSort and PackSort applications seamlessly combine the intelligent product flow, visibility and reporting tools of the InControlWare WCS (warehouse control system), including Order Manager™, Route Manager™ and View Center™. Access to InControlWare maintenance tools, including parts information, user manuals, testing of components and chutes, mechanical checks and I/O debugging, are also available.
For sales and marketing information, for the InControlWare software suite, or any Intelligrated solution, contact Emily Smith, senior marketing coordinator, Intelligrated, by phone at (513) 881-5239 or by email at emily.smith@intelligrated.com.
For media information, contact Anne Hainsworth, public relations, Koroberi, at (919) 945-0551 or by email at anne@koroberi.com.
About Intelligrated
Intelligrated (www.intelligrated.com) is a leading North American-owned, single-point provider of automated material handling solutions with operations in the U.S., Canada and Mexico. Headquartered in Cincinnati, Intelligrated designs, manufactures and installs complete material handling automation solutions, including conveyor systems, IntelliSort sortation systems, Alvey palletizers and robotics, Real Time Solutions order fulfillment systems, warehouse control software and advanced machine controls-all supported by 24x7 Customer Service and Support.
Serving the warehousing, distribution, consumer product manufacturing, postal and parcel markets, Intelligrated collaborates closely with its clients to develop productivity solutions and support their needs throughout the life of their material handling systems.
Featured Product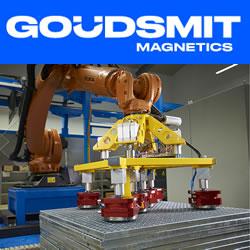 Magnetic robot end-of-arm tooling are suitable for the automated pick-up and positioning of steel or other ferromagnetic objects. They can be switched on and off and have a threaded mounting hole for robots. Magnetic grippers are an efficient alternative for traditional robot grippers. Application in automated production lines and for robots and pick-and-place systems. Magnetic product handling reduces the duration and number of operations. Goudsmit Magnetics is driven by magnetism since 1959. See how it works: https://youtu.be/hcXJ98mXHZE