ABS Capital Partners Attracted to Combination of World-Class Robotic Inspection Technologies and Sophisticated Data-Analysis Software Enabling Customers to Make Better Decisions
PITTSBURGH, PENNSYLVANIA - September 07, 2011 - RedZone Robotics, Inc. ("RedZone" or the "Company"), a designer and manufacturer of wastewater inspection technologies and related analytical solutions for municipalities, contractors and engineering companies, today announced a $25 million investment by ABS Capital Partners, Inc. ("ABS Capital"), a leading growth equity investor. RedZone will use the funds to continue to expand its product set and geographic reach. As a result of the financing, ABS Capital General Partners Bobby Goswami and Laura Witt will join the Company's board of directors.

"Most municipalities and wastewater agencies do not have the funding required to resolve all of their infrastructure problems. It is critical that they have a good complete understanding of the system so as to make fact-based decisions when allocating constrained capital and operating dollars in their quest to provide services and comply with regulatory demands. We are seeing municipalities save money and really benefit from our cutting-edge solutions that enable them to proactively manage their wastewater infrastructure," said CEO Eric Close. "This investment will help expand the number of communities we can assist, ensuring these communities can best use their funds to maintain their infrastructure and protect their environment."
Today's wastewater managers are tasked with making critical decisions about their valuable collection system assets while being limited by insufficient technologies, time, funding, and resources. The EPA estimates that U.S. investments in the aging wastewater infrastructure will need to increase by more than $150 billion over the next two decades to maintain current service levels, unless new spending and operations practices are adopted. Communities need useful information that is accurate, complete, centralized, and standardized to help them understand their system. RedZone Robotics' solutions provide actionable information required to make better decisions while reducing spending and negative environmental impact. RedZone accomplishes these results by providing world-class robotic sewer inspection technologies and sophisticated data-analysis software.
"The fact that municipalities are pressured to provide expected services while coping with deteriorating infrastructure, constrained budgets as well as an imperative to maintain high environmental standards means there is a huge pain point that RedZone is addressing," said Bobby Goswami of ABS Capital. "We were completely impressed by the unique way the Company had addressed these important problems. We're looking forward to watching RedZone's continued rapid growth."
Today, RedZone serves customers globally spanning large and small municipalities and wastewater agencies, as well as regional and national engineering firms.
About RedZone Robotics, Inc.
RedZone Robotics provides a wastewater infrastructure asset management platform that helps municipalities globally manage their valuable and abundant wastewater assets. Using RedZone's proprietary data acquisition robotics and industry leading ICOM3 wastewater asset management software, RedZone provides municipalities and engineers tools that provide better information that can be used to comply with regulatory requirements, spend limited financial resources smartly, and save the environment. For more information please visit www.redzone.com.
About ABS Capital Partners
ABS Capital Partners is a growth equity firm investing in the very best late-stage growth companies, partnering with CEOs to create a bridge to the next critical stage of success. Whether success is defined as a winning IPO like American Public Education, Neustar and Rosetta Stone or a rewarding sale such as US Labs, Course Advisor and Advanced Disposal, ABS Capital's financial backing and active partnership supports the CEO in tackling the challenges of rapid growth and creating significant long-term value.
Our partners are highly experienced at working with growth companies-each having spent between one and three decades in their industry as C-level executives, investment bankers and investors. Our practical, down-to-earth approach enables a strong partnership to determine and achieve well-defined goals. Our extensive network of resources delivers vital industry connections to our portfolio companies enabling them to capitalize on their competitive advantage.
ABS Capital Partners specializes in four growth sectors-business services, health care, media and communications and technology. With over $2 billion raised since inception, including $420 million in our latest fund, ABS Capital continues to build on its strong reputation for teaming with market leaders to deliver strong returns to investors.
For more information, please visit www.abscapital.com.
Featured Product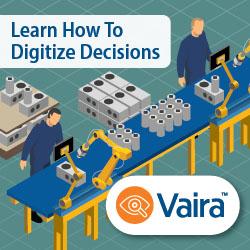 Pleora's Visual Inspection System helps operators detect errors and defects for unique component types, assembly steps, and custom low-run products where automated optical inspection (AOI) is too complex and expensive. The system helps DICA Electronics: Avoid costly, errors as a result of detecting errors at different phases in production, Speed time in detecting the root cause of the in-field errors with Tracking & Reporting apps for traceability, Maintain consistency in training new employees on requirements or with staff any time a new product is added, Easily train the system using 'good product' images for multiple product lines with no programming skills required, Reduce subjective decision-making, especially over a long shift, reducing error-escapes.