Company Chooses Mobile-robotic Approach for Increased Flexibility
NORTH READING, Mass.--(BUSINESS WIRE)--Kiva Systems, a developer of game-changing mobile-robotic solutions that automate order fulfillment and distribution operations, today announced that The Timberland Company will implement a Kiva system to automate all wholesale, retail and direct-to-consumer fulfillment activities in its new European Distribution Center which is under construction in Almelo, the Netherlands. Timberland is a global leader in the design, engineering and marketing of premium-quality footwear, apparel and accessories for consumers.

"Our previous warehouse was built around a cross-belt sorter, but increased flexibility was required to manage multiple workflows efficiently," said David Rupert, senior manager of engineering at Timberland. "On any given day, we have vast order combinations of footwear, apparel and accessories headed out the door to wholesalers, retailers or directly to the consumer. With Kiva, customer specific packing requirements can move quickly and easily through a single system with greater inventory control and productivity reporting."
Kiva uses hundreds of robotic drive units that bring inventory on mobile shelves directly to workers, allowing easy and efficient access to all inventory items at all times. Unlike traditional conveyor, carousel and AS/RS machines, the Kiva solution can handle products of all shapes and sizes, and automatically brings products to operators eliminating wasteful time spent walking the warehouse floor. Kiva is a complete automation solution that encompasses inventory control, forward replenishment, picking, packing, shipping, sortation, finishing and quality assurance to simultaneously improve warehouse productivity, speed, accuracy and flexibility.
"At Timberland we treat each order, whether it is pallets of cargo pants or a single pair of our classic boat shoes, as if it's going directly into our customer's hands, said Mark van Onna, director of European Distribution Center at Timberland. "Kiva's unparalleled order-accuracy means that every order filled meets our highest standard."
The Kiva solution goes beyond traditional warehouse automation, and will deliver breakthrough performance for Timberland by:
Increasing productivity significantly from previous automation
Improving order accuracy, ensuring that inventory and orders are 99.99% accurate
Eliminating all order batching and waving, enabling real-time order fulfillment
Allowing Timberland the pay-as-it-grows flexibility to handle today's volumes with the ability to easily add capacity quickly as needed over time.
"Timberland is a leading-edge brand, innovating in everything from apparel product design to environmentally friendly sourcing strategies, and now multi-channel fulfillment automation," said Mick Mountz, CEO and founder of Kiva Systems. "We are delighted to be working alongside the Timberland team, as they 'step up' to a new level of performance."
About Timberland:
Timberland (NYSE: TBL) is a global leader in the design, engineering and marketing of premium-quality footwear, apparel and accessories for consumers who value the outdoors and their time in it. Timberland markets products under the Timberland, Timberland PRO, Mountain Athletic, SmartWool, Timberland Boot Company and howies brands, all of which offer quality workmanship and detailing and are built to withstand the elements of nature. The company's products can be found in leading department and specialty stores as well as Timberland retail stores throughout North America, Europe, Asia, Latin America, South Africa and the Middle East. Timberland's dedication to making quality products is matched by the company's commitment to "doing well and doing good\" -- forging powerful partnerships among employees, consumers and service partners to transform the communities in which they live and work. To learn more about Timberland, please visit www.timberland.com.
About Kiva Systems
Kiva Systems, Inc. offers game-changing automation solutions for distribution centers that help companies simplify operations and reduce costs while increasing strategic flexibility. Using hundreds of autonomous mobile robots and sophisticated control software, the Kiva Mobile-robotic Fulfillment System enables extremely fast cycle times with reduced labor requirements, from receiving to order picking to shipping - all without conveyor. The result is a building that is quick and low-cost to set up, inexpensive to operate, and easy to change. For more information about Kiva Systems and its solutions, please visit www.kivasystems.com.
Featured Product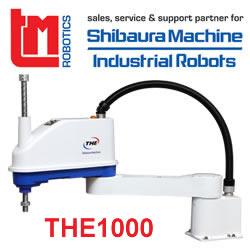 Designed for assembly and inspection applications in the electronics equipment and automobile components industries, the THE600 SCARA is a powerful automation tool. Advancing from the specifications of the existing THE400 SCARA, the THE600 has been developed to meet growing demand for fast-cycle automation. The THE600 model includes improvements in synchronised control and tracking precision. The THE600 is compact in design and offers improved high speed, with 60 per cent higher payload capacity than competing SCARA models in the same price range, making it the price-to-performance leader. Affordable price, impressive performance.