Liquid Robotics, Inc., an ocean data services provider and developer of the first wave-powered Wave Glider marine robot, today announced that Edward (Ed) T. Lu, formerly of Google and NASA, has joined the company as chief of innovative applications.
Tasked with developing new ways to advance our understanding of ocean science, Ed will work with leaders in the global scientific, government and commercial communities to foster new applications for ocean science.

"In the history of science, interesting discoveries and innovations arise when people find new ways to access or measure things," said Ed Lu of Liquid Robotics. "For the first time, Liquid Robotics gives scientists access to comprehensive volumes of ocean data never before available, which will allow for discoveries we may never before have imagined, not to mention new commercial applications that may change the way we interact with the ocean. To me, Wave Gliders are like individual 'spacecraft' circling the globe and helping us to explore our vast oceans."
"I am absolutely thrilled Ed is joining Liquid Robotics," said Bill Vass, CEO of Liquid Robotics. "Having a renowned scientist and NASA astronaut helping us to explore the ocean in ways that will benefit science and commercial markets is exciting. We look forward to Ed applying his inventive thinking and energies to Liquid Robotics."
Prior to joining Liquid Robotics, Ed led the Advanced Projects group at Google, where his teams were responsible for designing the hardware and software for rapid development projects including the imagery behind Google Maps/Earth, Google Street View, and Google Books. His team also developed Google PowerMeter, an on-line service that enables people to see and monitor in near real-time their home energy consumption.
Ed is a former NASA astronaut, having spent 12 years at NASA flying T-38 jets and serving aboard the Space Shuttle Atlantis, a Russian Soyuz spacecraft, and the International Space Station as a mission specialist/payload commander, flight engineer and science officer. Ed has a B.S. in Electrical Engineering from Cornell University, and a PhD in Applied Physics from Stanford University. Ed is the founder of the B612 Foundation whose goal is to significantly alter the orbit of an asteroid in a controlled manner by 2015.
The Liquid Robotics Wave Glider is the first marine robot to use only the ocean's endless supply of wave energy for propulsion (no manpower, no emissions, no refueling). The Wave Glider employs a multipatented design that allows it to cost-effectively collect and transmit data gathered during missions lasting years, over distances of thousands of miles, or while holding station. Data gathered by Wave Gliders will help us address the biggest challenges our marine environments face -- including ocean acidification, fisheries management, and natural disaster mitigation.
About Liquid Robotics
Liquid Robotics, Inc. is an ocean data services provider and developer of the Wave Glider marine robot that functions as a persistent and versatile platform for scientific and industrial payloads. Based in Silicon Valley and Hawaii, the company's Wave Glider vehicle enables dozens of applications and missions never before attainable. For more information, visit www.liquidr.com.
Featured Product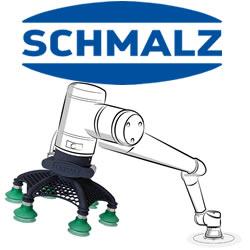 In order to interact with their environment and perform the tasks, lightweight robots, like all industrial robots, depend on tools - and in many cases these are vacuum grippers. These form the interface to the workpiece and are therefore a decisive part of the overall system. With their help, the robots can pick up, move, position, process, sort, stack and deposit a wide variety of goods and components. Vacuum gripping systems allow particularly gentle handling of workpieces, a compact and space-saving system design and gripping from above. Precisely because the object does not have to be gripped, the vacuum suction cupenables gapless positioning next to each other.