Flexpoint Sensor Systems, Inc. announced that through a joint venture relationship, they have completed the development of a sensor and integration of a housing utilizing the patented Bend Sensor for use in multiple seat related applications.
Clark Mower, President of Flexpoint stated, "The completion of the development of this seat sensor is significant because it provides a universal stock product that will meet the needs of many customers. Previously the Company developed and produced specialized custom sensors for each customer's application. This is the first of many stock sensors that can be utilized in a wide variety of applications and can be produced in volume which allows for better pricing and availability of the sensor. It will be a great benefit for the Company to have a sensor for the many and varied requests we receive for a robust and accurate seat occupancy detection device. This is the culmination of a significant development effort and should lead to significant recurring revenues as application of this sensor grows. We have a number of customers who have been waiting for completion of the development of this sensor. We are currently finalizing a Joint Venture Agreement which will include ownership of the intellectual properties related to the device. The Joint Venture Agreement is particularly exciting because it brings a significant marketing and sales network for the device and opens additional sales avenues for the sensor. I believe that this is a significant step for the Company and its technology to reach a method of producing and delivering sensors to mass markets."

About Flexpoint
Flexpoint Sensor Systems (FLXT) is a leading supplier of thin film sensing technology to many industries, including automotive, medical, industrial controls, and consumer products.
Flexpoint manufactures a patented new flexible sensor that has also proven to be an extremely durable switch. The single layer Bend Sensor product allows for the measurement of mechanical movement, air flow, water flow, or even vibration. In addition, it has been tested to over 35 million cycles without failure. It can be used as a range of motion sensor, or as a very durable, very reliable switch in most harsh environments. The breadth of applications for our sensor is limited only by one's imagination.
Featured Product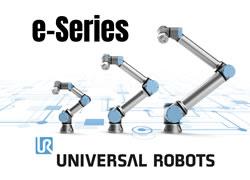 With the new e-Series cobot line, Universal Robots raises the bar for cobots, adding unique new features while significantly strengthening the four core principles defining collaborative robots: fast set-up, easy programming, flexible deployment, and safe operation. With a new built-in, tool-centric Force/Torque sensor the e-Series is ready to take on applications requiring force control right out of the box. A repeatability of 30 micron means the new cobots are suitable for very precise finishing, assembly and electronics tasks. A re-designed user interface decreases cognitive load and expedites program development, while a new externally accessible, 500Hz system bus enables more complex motion control algorithms or profiles.