KEBA and Staubli Robotics will showcase a new approach to robot control at the 2011 PACK EXPO show in Las Vegas. The innovative system provides seamless integration between robotic and PLC control, making it easier and less expensive to include one or more robots in your process.
KeMotion, the high performance robotic and PLC controller platform from KEBA, now supports the full range of Stäubli robot arms via their uniVAL drive.

"Its simplicity is the beauty. KeMotion plugs directly into the uniVAL drive via a real-time Ethernet bus, which then looks like a series of smart drives to the controller. No additional gateways or modules are required," says Doug Riffle, Director of Sales, KEBA Corp.
Robot control has been a focus at KEBA for over 15 years. During this time KeMotion has evolved into a robust platform that supports multi-robot operation in shared workspaces with syncronized auxiliary axes for a total of up to 64 axes on one central controller, vision system tracking, triggering, and many other advanced robotic features. KeMotion supports all standard kinematic models, including Cartesian, articulated arm, parallel/delta, and SCARA, as well as standard tools for extending the kinematic models with your own custom implementations.
Hans-Peter Kranewitter, International Sales Manager, KEBA AG, states, "Only KEBA provides a high-end robot controller that can be used with third party or custom developed robot hardware."
For general purpose PLC control, KeMotion runs the hardware independent CoDeSys IEC 61131-3 programming environment, and offers a complete line of servo drives and motors, remote I/O, touch screen display panels, handheld teach pendants, HMI visualization software, and all software configuration tools required to develop and deliver a complete production line with seamless integration and consitent look and feel.
So come see a demonstration of the ideal interaction between the KEBA robotic and PLC control system and Stäubli uniVAL robots. We look forward to welcoming you at Staubli Booth S-5279, PACK EXPO, Las Vegas, Sept. 26-28, 2011.
Featured Product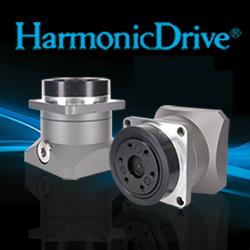 Harmonic Drive LLC, a leader in high precision motion control introduces new lightweight versions of select gearhead products. The new gearheads are ideal for designs where weight is a critical factor. Building on the success of Harmonic Drive LLCs current gear units, new lightweight versions were the next logical evolution of the CS/ SH product lines. With weight reductions of 20-30% without any reduction in torque ratings, the Lightweight (LW) gear units provide exceptional torque density.