Larger Integration Area - VISION ACADEMY oriented towards users - Expert Panel: Going Embedded - Product highlights: CMOS is coming
"All indications are that this year's VISION will surpass the record from 2010. Far more net exhibition space has now already been booked than in the comparable period last year", said Florian Niethammer, Project Manager for VISION at Messe Stuttgart. VISION 2011, International Trade Fair for Machine Vision (MV), will be staged this year for the 24th time. It will take place at the Stuttgart Trade Fair Centre from 8 to 10 November 2011. VISION 2011 will be geared more than ever before towards users. That's because the Integration Area, an exhibition platform specifically for systems integrators, will be considerably larger this year. "The Integration Area is incredibly well received. Based on the number of registrations received to date, there will be 50 per cent more exhibitors than in 2010", added Niethammer. Practical live demonstrations in the Application Park and the VISION ACADEMY, the user-oriented training forum during VISION 2011, will make it even more attractive for end users to attend the trade fair.

The machine vision industry is also opening up more and more application areas in the non-industrial sector. VISION 2011 will examine this trend and focus for the first time on medical technology as an upcoming application area. A Medical Discovery Tour will indicate, by means of a special logo, exhibitors' stands that are offering machine vision products, solutions or services for medical technology. To date, 42 companies have signed up to take part in the Medical Discovery Tour.
VISION 2011 will also again feature an International Pavilion for first-time exhibitors from abroad, a group stand funded by the German Ministry of Economics (BMWi) for innovative young enterprises from Germany and the presentation of the 19th VISION Award for outstanding achievements in machine vision.
VISION has become the main trade fair of the year for many exhibitors. In addition to the high-tech exhibition, it also contains an extensive first-class accompanying programme relating to advanced training. Over 300 exhibitors, of whom more than 40 per come from abroad, will present their innovations in the area of image acquisition and machine vision during VISION 2011. These innovations will include cameras, vision sensors, frame grabbers, software tools, illumination systems, lenses, accessories, complete systems, innovative application solutions and services. Some exhibitor highlights will be used as examples to demonstrate the trends which are now emerging in machine vision.
Cameras are now becoming increasingly faster and have higher resolutions. In the case of image sensors, it appears that CMOS technology is prevailing to an increasing extent over CCD technology. For example, Basler is launching a new line camera family for
VISION 2011 which "offers excellent image quality thanks to the latest CMOS technology", according to Hennig Tiarks, Head of Product Management at Basler. Models with 2k and 4k resolution will initially be available either with a CameraLink interface or a GigE interface.
These models will attain line rates of up to 48 kHz with GigE and 80 kHz with CameraLink. "We are setting new standards here in terms of price. Other models with higher resolutions will follow next year", revealed Tiarks.
Baumer is also using CMOS sensors in the newly developed HXG matrix camera series which will be premiered at VISION 2011. "Even current cameras equipped with high-quality CCD sensors are being outperformed in regard to sensitivity", said Mirko Benz, Product Manager at Baumer. With a resolution of 2048 x 2048 pixels, the HXG matrix camera can be used to inspect minute details. "We are therefore complying with the demands by industry for high resolution and a fast frame rate coupled with excellent image quality in order to optimise product quality and throughput in automation solutions", added Benz. A dual GigE interface ensures fast data transmission and easy integration.
A higher data volume during image acquisition also calls for faster data interfaces. New standard solutions such as Coax-Press have only recently been developed for this purpose. VISION 2011 will present the first products, for example the high-speed Q-2A340 camera from the QUARTZ series of Adimec. It offers up to 340 fps at a resolution of 2048 x 1088 pixels with 10 bits per pixel and is a CMOS-based two-dimensional camera which, according to the manufacturer, has CCD image quality. The camera can be supplied either with the 10-tap CameraLink interface or the Dual-CoaXPress interface.
When data are transmitted using CoaXPress, the camera must be connected to the host via a frame grabber. The first products in this field are now also available and will be presented at VISION 2011. They include, for example, the Karbon-CXP frame grabber series from BitFlow. Using a single 75 Ohm coaxial cable, it is possible to transmit image data, communication data, control data and the power supply. Karbon-CXP supports a data transmission speed per cable between the camera and host (downlink) of up to 6.25 Gbit/s and uplink 20 Mbit/s for communication and control data. The cable can be up to 135 metres long.
The well-established CCD technology is by no means out of the picture. During VISION 2011 MaxxVision will present, for example, the latest models in the GigE Vision XCG series from Sony, including the full HD H280E camera, which delivers 55 frames per second (fps) in the preset HD mode and whose resolution can be increased to 1920 x 1440 pixels at 45 fps. The XCG GigE camera series is GenICam-compatible."The excellent quality, especially with GigE Vision Sony cameras", said Sayed Soliman, Managing Director of MaxxVision, "is an important decision-making criterion among a large number of suppliers. We will shortly present other newly developed, compact GigE Vision models."
The future of cameras lies, for example, in increasing intelligence and development of the third dimension. VISION 2011 will also have a great deal to offer in this respect
(see Press Release 5 "The third dimension as a driving force behind innovation" dated July 2011). Vision Components will present, for example, the freely programmable 3-S smart camera VC nano 3D featuring the laser triangulation method at VISION 2011. The company has also announced an absolute highlight, i.e. completely new development packages for all VC smart cameras are available immediately. "All VC software tools have been adapted to a PC development environment", said Jan-Erik Schmitt, Sales Director at Vision Components, "Depending on the chosen development package, this means that no programming knowledge whatsoever is required."
Festo will present a smart camera as a control unit during VISION 2011. The intelligent SBO..-Q camera is mounted on the front end of an electric supply handler. The camera is moved instead of the objects to be tested. Thanks to the integrated programmable logic controller (PLC), the camera completely controls the handler. "An additional control unit is therefore not required. The entire system is therefore less complex and tests on components can be performed more quickly and with a lower error rate", said Hansjörg Hutt from Machine Vision Project Planning at Festo.
During VISION 2011 SCHOTT will open up new prospects for wafer inspection with the MORITEX IR MEMS Inspector. Wafers can be fully inspected in one operation internally and on the surface at the macro and micro level. Since silicon wafers can be fully transilluminated with infrared (IR) light, the IR MEMS Inspector is used primarily for bonded wafers, for example in MEMS (microelectromechanical systems) and semiconductor production. "It is a new type of infrared inspection system", said Andreas Uthmann from Lighting and Imaging Marketing at SCHOTT, "which combines the advantages of a fully automated system with the demands for flexibility and cost-efficiency".
Motion analyses, which are carried out in medical diagnostics, in sport or to observe turbulences in liquids, require time exposures by means of a high-speed video camera. These time exposures have not been possible to date because the large data volumes thus generated could not be stored quickly enough. The problem now appears to have been solved. During VISION 2011 Mikrotron will present for the first time MotionBLITZ LTR1 portable, a mobile video recording unit for long-term recordings up to 110 minutes in length with a full resolution of 1280 x 1024 pixels and 506 fps. The images are transmitted in real time via a full CameraLink interface from the camera to the ring memory hard drive system of the PC.
The market for vision sensors has developed rapidly in the last few years. Your advantage: they are compact and robust, are becoming increasingly more intelligent, and can be implemented without too much know-how. Cognex has extended the range of applications of its Checker vision sensors right on time for VISION 2011. This involves the clock speeds during parts presence checks, completeness checks and dimensional checks, but also simplified installation and programming. The new Checker 4G is now also available with coloured illumination and polarisation options.
In addition to the innovative trade fair, visitors to VISION 2011 can look forward to an extensive advanced training programme on all three days. The Industrial Vision Days
will be the leading event in this respect. Competent representatives from the machine vision industry will give talks here on current topics from machine vision practice. The popular Industrial Vision Days are again being organised by the VDMA (German Engineering Federation) Machine Vision Group. The programme will feature exciting topics such as 3-D in medical technology, parallel computing in machine vision, the advantages of the latest data interfaces, e.g. USB 3.0, CameraLink HS and 10 GigE Vision, and much more besides. During a special show entitled "Interface standards brought to life", visitors to the trade fair will also have the opportunity to talk directly to developers and see standards being used. This special show has been initiated in cooperation with the Automated Imaging Association (AIA), the European Machine Vision Association (EMVA) and the Japan Industrial Imaging Association (JIIA). An Expert Panel will take place on the second day of the trade fair as part of the Industrial Vision Days. The previously announced topic has been changed. The new motto is now "The future of machine vision. Going embedded".
Experts will explain machine vision from the aspect of embedded applications. Peter Ebert, Chief Editor of INSPECT, is responsible for organising this Expert Panel and will also act as its chairman.
The VISION Academy will be a superlative training forum this year. For the first time the seminars will not just be aimed at machine vision beginners, but also entirely different user groups such as maintenance staff, systems companies, systems integrators, engineering offices and mechanical engineering firms. Four free seminars will take place on every day of the trade fair with the following key topics: Questions and answers for machine vision beginners; Know-how for maintaining machine vision systems; Professional machine vision solutions for systems companies; How machine vision makes mechanical engineering companies competitive. These seminars are being organised by the VISION ACADEMY, Erfurt.
Experts from the consulting group wirth + partner will also provide advice to engineers and natural scientists on careers and job applications during the Careers Centre. Anyone looking for a job can find current vacancies of exhibitors on the Job Board or look at them online on the VISION homepage.
An excellent trade fair programme such as that on offer at VISION 2011 is only possible thanks to a large number of worldwide partners. They include the German Engineering Federation (VDMA), the promotional supporter of VISION, the European Machine Vision Association (EMVA), the Automated Imaging Association (AIA), the Japan Industrial Imaging Association (JIIA), the UK Industrial Vision Association (UKIVA) and the Imaging Association of India (IAI). They will help to ensure that VISION 2011 is an international success.
There are now hardly any user industries which do not have an interest in machine vision solutions. VISION 2011 is expected to attract visitors from the automotive industry, the automotive supply industry, mechanical engineering, the electrotechnical and electronics industries, the precision mechanics and optical industries, the printing, glass, wood and rubber industries, the pharmaceutical and cosmetics industries, the food industry, the aerospace industry, the medical technology industry, the security industry, traffic control systems, sport, advertising
and entertainment. The target number of visitors is around 7,000. Since Messe Stuttgart can be reached quickly and conveniently - it is located right next door to Stuttgart Airport - a one-day visit is quite easy, even for guests from neighbouring countries.
Featured Product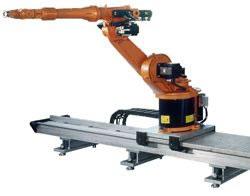 IPR Robotics offers a wide range of servo-driven 7th axis linear rails for industrial robots. These rails come in ten different sizes and are constructed from modular high strength extruded aluminum sections to handle payloads of 100 kg to 1600 kg or from steel to handle 2000 kg payloads. This variety of rail sizes allows each application to be sized correctly, controlling the space required and the price point. The drive train design of these rails utilizes helical gear-racks and is proven over 10 years to be repeatable and reliable, even in tough foundry applications.