Urban Robotics Rapidly Generates Massive 3D 2.2B Pixel Colorized Point Cloud of Mount St. Helens from 128 Images
Urban Robotics Inc., provider of cutting edge software and hardware solutions for Intelligence, Surveillance and Reconnaissance (ISR), Remote Sensing and Geospatial applications, announces the release of their unparalleled Dense 3D Extraction technology, offering a fully automated, highly scalable solution that produces results rapidly from thousands of photos.

Urban Robotics specializes in large-scale 3D extraction using computer vision techniques, converting ordinary 2D imagery into a 3D space, pixel by pixel. "Our approach scales to very large numbers of images and does not require special cameras or rigorous calibration. There is great promise that this approach provides a viable alternative to LiDAR", said Geoff Peters, CEO, Urban Robotics.
Since 2008, Urban Robotics has been performing fully automated 3D image processing on over a petabyte of data as a standard part of their software pipeline. The technology was recently demonstrated by rapidly generating a massive 2.2B pixel colorized point cloud of Mt St Helens from 128 images. Urban Robotics' approach is unique in its ability to scale across large data sets by using proprietary cloud software running over hundreds of cores.
Dense 3D Extraction and 3D Reconstruction is well suited for applications such as large-scale 3D mapping, contour mapping, watershed analysis, powerline corridor mapping, harvest analysis and pipeline monitoring. Urban Robotics software has been applied to rotary, fixed wing, unmanned (UAV/UAS), vehicular and handheld imagery.
Urban Robotics technology was developed as a commercial solution, but has been primarily deployed in the public sector. The Dense 3D Extraction technology is sensor agnostic, can be applied to massive datasets and is scalable for cloud computing. To date over 14 million images have been processed under demanding conditions. Urban Robotics will expand into the commercial market through a new company Urban Robotics Commercial Ventures.
About Urban Robotics
Urban Robotics, founded in 2003, develops cutting-edge software and hardware solutions for 3D Intelligence, Surveillance and Reconnaissance (ISR), Remote Sensing and Geospatial applications, providing one-stop shopping for complete digital imagery systems, from collection to post-processing to data management. Products include aerial 3D EO and NearIR digital sensor systems, high performance aerial and ground computer clusters, and automated 3D algorithms and services for rapidly generating large mapping and modeling datasets. To find out more, please visit http://www.urbanrobotics.net.
Featured Product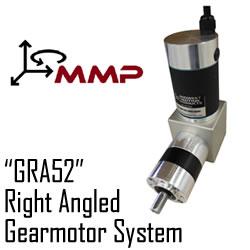 Midwest Motion Products Inc., based in Howard Lake, Minnesota, is pleased to announce the release of the new "GRA52" Right Angled Gearmotor System. This new 1:1 Right Angled Gearbox allows for significantly increased versatility, and design whose geometry allows for the unit to be mounted in tight spaces. We employ our Standard Brushed or Brushless DC Motors and Planetary Gearheads to complete the new R/A Design. Features/Benefits: Cost effective design - as low as $250*, Very Versatile - Output Ratios ranging from 3.7:1 to 2076:1, Fully Reversible Design, Readily available - Samples can be built from Stock Material, High Volume capacity.