Point Cloud Library (PCL) version 1.2 has been released
Point Cloud Library: a comprehensive open source library for n-D Point Clouds and 3D geometry processing. The library contains numerous state-of-the art algorithms for: filtering, feature estimation, surface reconstruction, registration, model fitting and segmentation, etc.

You can find the latest source and binaries on our download page: http://www.pointclouds.org/downloads/.
ChangeList: http://dev.pointclouds.org/projects/pcl/wiki/ChangeList#-12-2011-09-30-Enough-small-talk-LM-
Featured Product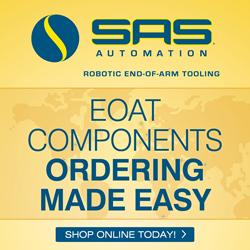 SAS Automation's complete line of modular components allows you to rapidly build your end-of-arm tools in your own plant, meeting your ever-changing automation needs on-demand. And with our newly enhanced Online Shopping Cart, it's never been easier! IT'S SHOPPING MADE SIMPLE, with features like: • Responsive Design so you can access anytime -- desktop, tablet or phone -- with ease • CAD Model Access with 3D Software Integration • Order History • Saved Quotes • Tool Builder • Product Comparisons • Enhanced Search • Social Media Sharing • Product Reviews