Nelson Shea Selected for Dedication to Protecting People, Property and Environment
Orion, Michigan - Oct 10, 2011 - Applied Manufacturing Technologies (AMT), a leading supplier of factory automation design, engineering and process consulting services today announced its Director of Safety Consulting Services, Roberta Nelson Shea, has been honored by the American Society of Safety Engineers' (ASSE) Women in Safety Engineering (WISE) Common Interest Group for making a difference in the safety, health and environmental (SH&E) field as part of the WISE '100 Women, Making a Difference in Safety' project.

"It is an honor to work alongside the many dedicated women and men who truly make a difference in safety with the single goal of ensuring that workers return home safely to their families each day, injury and illness-free," said Ms. Nelson Shea. " I very much appreciate this honor from the ASSE and hope to further contribute to safety projects in my new role at AMT."
Ms. Nelson Shea has more than 30 years of experience in the safety, health and environmental (SH&E) profession. She was recently appointed Director of Safety Consulting Services at Applied Manufacturing Technologies where she will head up the company's new safety business unit. Nelson Shea began her career in the SH&E field with Procter & Gamble (P&G) and has led the American National Standards Institute (ANSI) RIA R15.06 (Robot Safety) standard committee for more than 20 years. For the past few years, Nelson Shea has also served on the Board of Directors of ANSI and as the Chair of the ANSI Company Member Forum.
Founded in 1989, Applied Manufacturing Technologies (AMT) is a leading supplier of complete consulting and engineering services, offering single-source engineering solutions to the automation and manufacturing industries. The company's service offerings range from design and simulation to programming, installation and support of industrial automation solutions. The company's technical and industry expertise in automation for the automotive, aerospace, medical, heavy equipment and consumer products industries offers its customers the highest quality professional service available in the industrial arena. For more information contact Applied Manufacturing Technologies at 248-409-2000, or online at www.appliedmfg.com.
Featured Product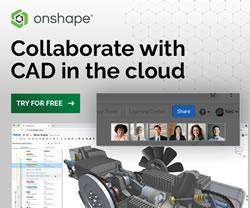 Speed Up Your Product Design. Onshape is the only Software-as-a-Service (SaaS) product development platform that combines CAD, built-in data management, real-time collaboration tools, and business analytics. Sign up for a Free Trial.