Engineered for precision robotics and packaging automation applications the 3200 CController with EtherCAT integrates motion control, robotics and PLC within onecentral control system
Engineered for precision robotics and packaging automation applications the 3200 CController with EtherCAT integrates motion control, robotics and PLC within onecentral control system

Lenze Americas (PACKEXPO Booth #S-5360), a leading global manufacturer of electrical and mechanicaldrives, motion control and automation technology, serves the packaging andprocess automation industries with the compact, energy-efficient 3200 C L-force Controller.
"Complex machinesrequire a powerful and uniform central automation control system. The3200 C Controller is designed for superior precision motion control in highdynamic multi-axis applications, including gantry systems, robots, conveyers,feeders, and other machines in a line process," explains Darrow Hanesian,Director of Product Management, Lenze Americas.
Combining the program logiccontroller (PLC), motion controller and visualization in one compact devicesimplifies engineering and extends cost savings. The powerful 3200 Carchitecture fits in a tight control cabinet and operates without a fan or batteryvia an integrated universal power supply (UPS). Based on the Atom processors from Intel, it is the ideal platform for energy-efficientautomation.
The 3200 C Controller directs theECS drive and MCS motor through the sequence of moves, plans each trajectorypoint, and directs the drive to close the position and velocity loops with themotor. With an integrated Ethernet switch and EtherCAT on-board, the 3200C communicates seamlessly with multiple axes from 2 (1ms cycle time) up to 64(6ms cycle time). Lenze I/O System 1000 modules can be side-mounted tothe 3200 C backplane bus to minimize delay and jitter. Touch-probecapable I/O controls and a 48Mbit/s backplane bus with time stamp ensureprecision.
Add automated standard setup via itsUSB flash drive; simple device replacement via its pluggable memory card; anddiagnostics via an integrated Web server - the 3200 C stands above othercontrollers in minimizing the time required for commissioning andmaintenance. The future-proof 3200 C Controller complies with industrialstandards: IEC 61131-3, PLCopen, PLC Designer (CoDeSys3), and EtherCAT.
"Automation applicationsdemand high performing, simple to use, maintenance-free technologies. Integration of the EtherCAT-based 3200 C Controller platform combines logic andmotion-rounding off our uniform, end-to-end portfolio of Lenze solutionsfor industry," adds Hanesian.
Featured Product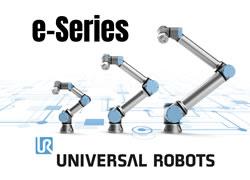 With the new e-Series cobot line, Universal Robots raises the bar for cobots, adding unique new features while significantly strengthening the four core principles defining collaborative robots: fast set-up, easy programming, flexible deployment, and safe operation. With a new built-in, tool-centric Force/Torque sensor the e-Series is ready to take on applications requiring force control right out of the box. A repeatability of 30 micron means the new cobots are suitable for very precise finishing, assembly and electronics tasks. A re-designed user interface decreases cognitive load and expedites program development, while a new externally accessible, 500Hz system bus enables more complex motion control algorithms or profiles.