NASA and the National Institute of Aerospace (NIA) are launching a 2012 undergraduate and graduate level student robotics competition.
NASA and the National Institute of Aerospace (NIA) are launching a 2012 undergraduate and graduate level student robotics competition.

The RASC-AL (Revolutionary Aerospace Systems Concepts Academic Linkage) Exploration Robo-Ops Student Challenge will allow up to eight teams to compete at NASA's Johnson Space Center (JSC) next spring. The prize is $10,000 and a chance to attend the popular analog and robotics testing event, NASA Desert Rats, in fall 2012.
Interested teams are encouraged to submit a Notice of Intent by Nov. 18 and their project plan by Dec. 9. Online submission forms, along with full details on the competition, can be found on the RASC-AL Robo-Ops website:
http://www.nianet.org/RoboOps-2012/index.aspx
Teams should be comprised of students with various backgrounds, including mechanical engineering, robotics engineering, computer science, marketing and communications. During the competition, each team will do education and public outreach to advocate for their rover and NASA rover missions.
The Robo-Ops Steering Committee, which consists of researchers from NASA and NIA, will review all submitted project plans and select up to eight teams to move forward to the design and testing portion of the challenge. These qualifying teams will receive a stipend to help offset the development costs to design and build a rover, and for travel-related costs for the 2012 Robo-Ops Competition in Houston.
During this second phase of the competition, three students and a faculty advisor from each team will travel with their rover to the JSC "Rock Yard," while others will stay behind at their local universities so they can control the vehicle remotely. Each rover will have to be commanded from its home university campus through a commercial broadband wireless uplink. The only information available to the remote "driver" will be information transmitted through on-board video camera(s) or other on-board sensors. Sample tasks include negotiating specified slopes, crossing sand and gravel pits, driving over rocks, and picking up specific rock samples and placing them on the rover for the remainder of the course.
The challenge is one of a number of participatory exploration initiatives led by NIA. By charging students with designing, building, and testing an interplanetary rover, NASA and NIA are engaging them in work that parallels what real-life NASA professionals are doing today. Fresh approaches to research and concepts discovered in the students' unique rover designs also have the potential to produce concepts and data for practical use in NASA's design of planetary rovers.
"Robo-Ops provides real-world challenges - from a technological perspective," said Pat Troutman, steering committee member from NASA's Langley Research Center. "Through this competition, we get to see ideas and technology advances that NASA might be able to apply to future exploration rovers."
Robo-Ops is being launched at a time when interplanetary rovers are again in the spotlight with the Mars Science Laboratory's Curiosity rover set to embark on its journey to Mars later this fall. Upon landing on the Red Planet, Curiosity will join its counterpart Opportunity.
For more about the RASC-AL Exploration Robo-Ops Student Challenge visit:
http://www.nianet.org/RoboOps-2012/index.aspx
Featured Product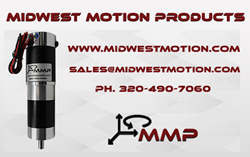 MMP specializes in supplying high-quality Brushed & Brushless DC Motors & Gearmotors for Robotics and Automation Equipment with a wide range of motor windings and gear ratios. With an impressive track record of more than 8,000 released DC Gearmotors designs and over 2,000,000 individual part numbers, we are renowned for our ability to handle large-scale orders. Due to our huge on-hand inventory, we are also well known for lightning-fast delivery of our standard products. We take pride in our dedicated customer service and our team of knowledgeable sales and engineering experts who are ready to assist you with custom design solutions tailored to your specific application. Additionally, we also offer a wide range of complimentary products, such as DC Motor Controls, DC Linear Actuators, AC-DC power Supplies, and DC Servo Amplifiers and others.