Stäubli Robotics is now offering solutions for fast, yet precise production in the solar industry
DUNCAN, SC - Stäubli Robotics is now offering solutions for fast, yet precise production in the solar industry: The TX200PV Series 6-axis robots, featuring high-speed pick and place capabilities for high throughput and yield.

The TX200PV robots, consisting of TX200PV and TX200PVL models, are suited to a range of applications within c-Si and thin film production, including loading/unloading, cutting, measuring, sorting and packing of ingots, bricks, wafers, cells and modules. They offer particular advantages in wafer handling, both before and after the wet bench, as they are specifically designed for use in clean environments. They have a Cleanroom standard of 5 based on ISO14644-1 certification, with a rating of 4 for the CR version. High path precision and smooth handling processes, despite the high speeds involved, ensure very low breakage rates.
Having highly robust and rigid closed arm structures, the robots are designed for heavy payload, with maximum load capabilities of 130 kg for the TX200PV and 80 kg for the TX200PVL and nominal loads of 100 kg and 60 kg, respectively. Their enclosed structure also makes them easy to use and clean in CR and other demanding environments.
Additional features of the TX200PV Series include an IP67-rated wrist for limited buildup; a vertical cable outlet version for improved cable protection in clean and humid environments; and electrical and pneumatic forearm connections that are close to the tool, with user lines already installed. Multiple attachment methods (floor, ceiling, etc.) offer added flexibility, while a small footprint enables the robots to work from a shelf-mounted configuration.
Stäubli will be showcasing the latest solutions for solar automation at Solar Power International 2011 in Dallas, TX at booth 5130.
For more information, visit: http://www.solarpowerinternational.com/
About Stäubli:
Stäubli is a mechatronics solutions provider with three dedicated divisions: Textile Machinery, Connectors and Robotics. With a workforce of 4000, Stäubli has a presence in 25 countries and agents in 50 countries around the world.
Featured Product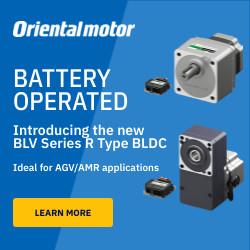 The BLV Series R Type brushless DC motor (BLDC motor) speed control system offers the design of motor and driver significantly reduced in size and weight, yet high-power, and contributes to the battery driven automation. The BLV Series R Type is compatible with the two interfaces of Modbus (RTU) and CANopen communication.