Manufacturing

Marketing Partner
---

Staubli Corporation
Stäubli is a leading manufacturer of textile machinery, quick release couplings and robotics systems. With a workforce of over 4500 employees Stäubli is present in 25 countries supported by a comprehensive distribution network in 50 countries worldwide. Stäubli's North American headquarters is located in Duncan, South Carolina and has over 200 employees supporting Textile, Connectors and Robotics customers, with a dynamic sales force strategically placed on the West Coast, Canada, Mexico, and elsewhere throughout the continent.
---
Mailing Address:
201 Parkway West
Duncan, SC 29334
United States of America
Tel: (864) 433-1980
Email: marketing.usa@staubli.com
Website: http://www.staubli.com
Company Category: Factory Automation
Company Sector: Manufacturing
Keywords: robotics connectors automotive automation plastics
Partner Status: Marketing Partner
---
Products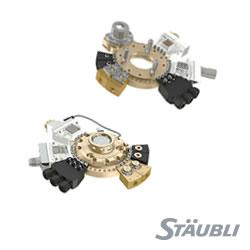 Stäubli is a pioneer in the construction and development of robotic tool changing systems. Our customers benefit from our many years of expertise in all industry sectors, as well as our modular product concept, which offers three efficient solution paths: MPS COMPLETE offers preconfigured robotic tool changers for immediate use. MPS MODULAR allows the user to determine the configuration, while MPS CUSTOMIZED allows the construction of special, application-specific systems.
---
---
White Papers
This Company does not currently have any White Papers
---
---