Rockwell Automation introduces Allen-Bradley ControlLogix 5570 Series PACs.
Rockwell Automation introduces Allen-Bradley ControlLogix 5570 Series PACs. This series, which includes ControlLogix: 5571, 5572, 5572S, 5573, 5573S, 5574 and 5575 controllers, features enhanced process, motion, safety and information capabilities, leverage a common design environment and networking of the Rockwell Automation Integrated Architecture system.

For process applications, the ControlLogix controllers significantly improve the amount of information that can be exchanged between the control and supervisory layers, while allowing more control strategies to be executed. This helps boost system performance while enhancing access to real-time information for improved productivity.
For motion applications, the ControlLogix 5570 series controllers provide high-speed axis and trajectory planning making it ideal for synchronizing complex motion applications. Each controller is capable of supporting more than 100 axes of motion and seamlessly integrates through EtherNet/IP and SERCOS network interfaces.
For discrete applications, the ControlLogix controllers provide two to three times faster scan times and a range of memory options from two to 32 MB.
All ControlLogix 5570 Series controllers are equipped with on-board display features that provide enhanced diagnostics and run-time information to help ease troubleshooting and increase uptime. The controllers also have improved security features including improved data integrity and faster data transference with a one-GB secure digital card.
"With faster processing speeds, the new PACs can provide more timely data for improved decision making," said Kevin Zaba, vice president and general manager, Control and Visualization business, Rockwell Automation. "We continue to improve and build out our offerings within our Integrated Architecture system to help a greater range of customers minimize costs, improve data flow and achieve plantwide optimization."
About Rockwell Automation
Rockwell Automation, Inc. (NYSE: ROK), the world's largest company dedicated to industrial automation and information, makes its customers more productive and the world more sustainable. Headquartered in Milwaukee, Wis., Rockwell Automation employs about 20,000 people serving customers in more than 80 countries.
Featured Product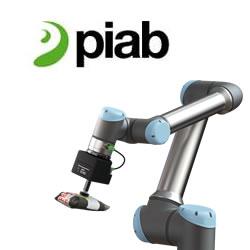 Piab's Kenos KCS gripper enables a collaborative robot to handle just about anything at any time. Combining Piab's proprietary air-driven COAX vacuum technology with an easily replaceable technical foam that molds itself around any surface or shape, the gripper can be used to safely grip, lift and handle any object. Standard interface (ISO) adapters enable the whole unit to be attached to any cobot type on the market with a body made in a lightweight 3D printed material. Approved by Universal Robots as a UR+ end effector.