Functional and economic factors to be considered in choosing integral control and fieldbus enabled brushless servo motors discussed in new Dunkermotor white paper.
Elgin, IL - October 24, 2011 -- Brushless servo motors with integrated motion control electronics continue to expand into new solar tracking and other solar power applications based on their ease of installation, compact size and the reduction in cost compared to separate drives, connectors and cabling. Cost-conscious OEM system developers, however, will benefit from not specifying and purchasing more control features and functionality than their applications require. A new White Paper from solar industry motor manufacturer, Dunkermotor, identifies and discusses seven distinct integral control topologies to enable solar power system design engineers to choose what suits their application without over-specifying.

Today\'s technology brings servo manufacturers many options when it comes to designing their motor drives and controls. \"With all the different possible functions that can be implemented in a se rvo drive, many manufacturers are tempted to pack them all into one \'full-featured\' product,\" said Jay Becker, senior applications engineer for Dunkermotor. \"This can be a problem, however, for the OEM when it comes time to select the right one for their application.\"
In the case of the end-user or custom machine builder, they may prefer to have a \"does everything\" drive that they can use in all of their applications, most of which can be different from one to the next. Solar power system OEMs, on the other hand, cannot afford unnecessary features and hardware if they are to remain market competitive. Therefore, the OEM requires a servo drive with features that are tailored to the application at a price tailored according to those features.
The new Dunkermotor White Paper discusses seven different levels of capability of integrated servo motor and drive combinations, ranging from simple integrated commutation electronics to fieldbus distributed control arrangements, such as CANopen, Profibus and EtherCAT, all the way to motors with integrated master electronics which require no higher level controller, are freely programmable and can also control slave node motors.
Servo motors with integrated electronics increase reliability due to the close proximity of the drive/control electronics to the motor itself, virtually eliminating the possibility of interference from the outside world. Having the electronics inside the motor also dramatically reduces the panel space for a given machine, saving cost in materials as well as time in wiring.
The new White Paper, titled \"Why Pay for More Than You Need?\" may be downloaded from the Dunkermotor website at http://www.dunkermotor.com/whitepaper/whypaymore.
About Dunkermotor:
Headquartered in Elgin, Illinois, Dunkermotor is the North American sales, technical support and logistics subsidiary of Dunkermotoren GmbH, for 60 years the world market leader in customized, configurable sole-source fractional horsepower motion control solutions composed of BLDC, PMDC and AC electric motors, gearmotors, controls, encoders and brakes, as well as linear motion solutions. Dunkermotor\'s Solar Tracker Motors are based on 20 years experience in the solar power industry, with over 150,000 units in the field. With headquarters in the Black Forest in Bonndorf, Germany and production and/or logistics facilities in Europe, Asia and the U.S., Dunkermotoren employs 1000 globally and produced over 3 million motors in 2010 for t he solar power, factory and commercial automation, specialty machinery, packaging, semiconductor, medical, and mass transportation industries.
http://www.dunkermotor.com
Featured Product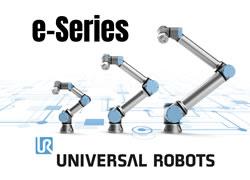 With the new e-Series cobot line, Universal Robots raises the bar for cobots, adding unique new features while significantly strengthening the four core principles defining collaborative robots: fast set-up, easy programming, flexible deployment, and safe operation. With a new built-in, tool-centric Force/Torque sensor the e-Series is ready to take on applications requiring force control right out of the box. A repeatability of 30 micron means the new cobots are suitable for very precise finishing, assembly and electronics tasks. A re-designed user interface decreases cognitive load and expedites program development, while a new externally accessible, 500Hz system bus enables more complex motion control algorithms or profiles.