More than 200 Successful Scoliosis Cases Performed in Leading US Medical Centers
CAESAREA, Israel, Oct 31, 2011 -- Mazor Robotics Ltd (tase:MZOR), the pioneer in innovative surgical robots and complementary products for spine surgery, announced that its clinically proven technology has been used to guide placement of more than 15,000 spinal implants, from routine to the most complex cases. Furthermore, in thousands of surgeries worldwide with Mazor Robotics systems there have been no reported cases of permanent nerve damage. This contrasts sharply to the current standard of care.

Mazor Robotics has developed the world's only robotic systems that provide surgical guidance for spine surgeries. According to published clinical data, Mazor Robotics' technology has been scientifically proven to increase the accuracy of spinal implants and significantly lower rates of misplaced screws and neurological deficits. For patients, this means fewer complications and revisions. More importantly, higher accuracy rates means that more people are able to live with less pain and debilitation, a reality made possible through the combination of Mazor Robotics' unique technology and the skill of the surgeons who use the system.
Following the success of its initial SpineAssist(R), Mazor Robotics recently introduced Renaissance(TM), its next generation system, which is both FDA cleared and CE marked. Renaissance(TM) is transforming spine surgeries from freehand procedures to highly accurate, state-of-the-art procedures, with less radiation -- even for minimally invasive surgery, scoliosis, and other complex spinal deformity cases.
Spine surgeon Nitin N. Bhatia, MD, Irvine, California, summarized the clinical advantages, remarking that Mazor Robotics technology "saves on time, saves on radiation and the accuracy has been phenomenal."
Dennis P. Devito, MD, a scoliosis specialist from Atlanta, Georgia, recently reported clinical accuracy of 99.7% for 1,815 implants placed with Mazor Robotics' system in 120 scoliotic adolescents. According to current scientific literature, the average accuracy is approximately 85-90% for free-hand surgical techniques. Devito said, "I find it provides better patient care through enhancement of the surgeon's capabilities and it also makes my surgical work easier."
Ori Hadomi, CEO of Mazor Robotics, said, "This clinical-success milestone is rewarding for our team and the leading spine surgeons with whom we partner. It is so fulfilling to see our robotic technology integrated in surgical practice in medical centers worldwide. The most gratifying part of all is the enthusiasm from surgeons using Mazor Robotics systems, reflecting their patients' satisfaction with the outcome of their spine surgeries. We look forward to more in-depth collaboration with surgeons using our systems."
About Mazor Robotics
Mazor Robotics Ltd (tase:MZOR) is dedicated to the development and marketing of innovative surgical robots and complementary products that provide a safer surgical environment for patients, surgeons, and OR staff. Mazor Robotics' flagship product, Renaissance(TM), is a state-of-the-art surgical guidance system that enables surgeons to conduct spine surgeries in an accurate and secure manner. Mazor Robotics systems have been successfully used in the placement of over 15,000 implants in the USA and Europe. Numerous peer-reviewed publications and presentations at leading scientific conferences have validated the accuracy, usability, and clinical advantages of Mazor Robotics technology. For more information, visit www.MazorRobotics.com
Featured Product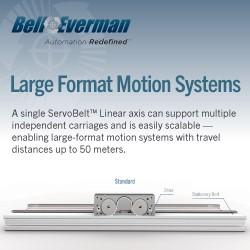 Manufacturing and packaging operations that still depend on manual material or parts handling operations can reap immediate benefits from a type of automation based on long-travel Cartesian robots with custom end-of-arm tooling (EOAT) and advanced sensing capabilities. These robots can support a variety of machines - performing otherwise manual tasks such as machine tending or transferring in-process parts - making long-travel Cartesian transfer robots a major upgrade to processes and operations. Download the White Paper from Bell-Everman