ABB safety and automation systems to help extend the working life of oil and gas fields on Norwegian continental shelf
Zurich, Switzerland, Oct. 31, 2011 - ABB, the leading power and automation technology group, signed a three-year frame agreement worth $33 million with BP Norway for maintenance, modification and service of the safety and automation systems of all of its oil field operations on the Norwegian continental shelf. The agreement signed in the third quarter includes the option to extend for ten additional two-year terms.

"Our long history in improving oil and gas operations and our successful working relationship with BP Norway were key factors to win this important agreement," said Veli-Matti Reinikkala, head of ABB's Process Automation division. "ABB offers the technology, services, and industry expertise to help oil and gas customers extend the productive lifespan of their established oil field investments, as well as optimizing the productivity of new resources."
ABB will provide system expertise for the safety and automation systems installed at BP's main field operations in Norway, Valhall and Ula, as well as remotely operated Hod and Tambar. Telecommunications systems at Skarv will also be covered by the agreement.
Optimized performance of safety and automation systems will extend the productive life of oil and gas fields, by increasing their production volumes, lowering operating costs, as well as ensuring process, personnel and environmental safety. ABB will also provide simulation technology to increase overall safety and that will be used for staff training and testing of new functionality.
ABB (www.abb.com) is a leader in power and automation technologies that enable utility and industry customers to improve performance while lowering environmental impact. The ABB Group of companies operates in around 100 countries and employs about 130,000 people.
Featured Product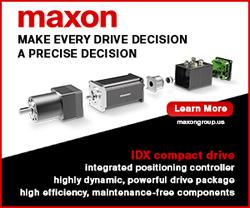 The compact brushless EC-i motor combined with an EPOS4 positioning controller delivers a highly dynamic, powerful drive package with field-oriented control (FOC), high efficiency, and maintenance-free components in a high-quality industrial housing. The maxon IDX drives are suitable for use across the entire speed range (from standstill to maximum speed) and have an extremely high overload capability. Together with a positioning controller, the integrated sensor (single turn) enables absolute positioning.