Presentations Focus on Consumer, Military, and Educational Robotics Industries Presentations Focus on Consumer, Military, and Educational Robotics Industries
BOSTON, MA - November 2, 2011 - Hundreds of the world's top roboticists, academics and intelligent systems industry executives from across the globe have converged in Boston for two full days packed with education and networking. With the goal of accelerating the growth of the robotics industry, the RoboBusiness Leadership Summit takes place today and tomorrow at the Sheraton Boston Hotel, Boston, Massachusetts. For more information visit www.RoboBusiness.com.

This morning's keynotes kicked off the event with an A-list group of presenters representing a variety of markets. Highlights of the keynotes include:
Innovative robotics companies can change the world," said Colin Angle, co-founder and CEO of iRobot, in his keynote on "Robots that Matter," explaining how "robots that matter solve problems." They are achievable and do "physical and ugly jobs." By way of example, Angle explained how his company's robots made a difference in the Gulf of Mexico Deepwater Horizon disaster, at the Fukushima Daiichi nuclear reactor in Japan, and now in the war in Afghanistan. One challenge left to solve, however, is developing robots to care for our elderly, he said, and urged the audience to "make more robots that matter."
James Overholt, senior research scientist, robotics, for the U.S. Army's Tank Automotive Research Development and Engineering Center (TARDEC), followed suit with his keynote that at least partially explained how the U.S. Army will keep its technology edge. To do so, said Overholt, robotic systems will have to have a higher degree of autonomy in complex missions. TARDEC's current plan is to develop "operationally manned vehicles" that can switch instantaneously from by-wire operation to operation by a human driver, without having to change the vehicle to do so.
In a nod to the many disciplines within the robotics community, Paul Copioli, president of VEX Robotics, spoke about education in science, technology, engineering, and math (STEM), and how the U.S. needs to "increase its talent pool" with graduates who are well-versed in these technological disciplines. "But we must start early," he warned, urging the audience to "get involved locally." The ROI? "People with skills to help you solve robotics challenges," he said.
In addition, RoboBusiness founder and conference chairman Dan Kara presented a luncheon keynote on the opportunities in the personal and service robotics market, naming autonomy as the prime driver of robotics today.
The agenda for the remainder of the day includes breakout sessions in the Business Development & Investment and Advanced Capabilities & Emerging Technologies tracks, an awards ceremony and a networking reception.
Onsite registration is available for those who still want to attend this unique 2-day executive-level robotics industry conference that brings together the intersection of business, technology, academics, research and investment professionals in one place to facilitate the commercial development and advancement of the robotics industry.
RoboBusiness Leadership Summit Sponsors Include:
Founding Sponsor: iRobot; Platinum Sponsors: Aethon, VEX Robotics, Deere & Company; Gold Sponsor: Finnegan; Silver Sponsors: Freescale, Adept Technology; Academic Sponsor: Worcester Polytechnic Institute; Registration Sponsor: Advanced Motion Controls; Standard Sponsors: Autonomous Solutions, CoroWare, Elmo Motion Control, Energid, Infranor, InterSence, IXXAT, JETRO, Jetta Company Ltd., Maxon Precision Motors, MICROMO, MicroStrain, octoScope, OLogic, SICK, Inc., SRI International, Tiger Electronics, Yaskawa America, and Yost Engineering.
For 2012 sponsorship information please contact Rich Erb, Managing Director, Robotics Trends at 508-663-1500 x331, rerb@ehpub.com.
For all other summit inquiries, please contact roboservices@ehpub.com, or 800-305-0634.
About Robotics Trends
Robotics Trends, a division of EH Publishing, Inc., is the world's first integrated media firm serving the burgeoning educational, personal, service, industrial and mobile robotics marketplace. Robotics Trends serves the robotics industry through two major business divisions:
Robotics Trends Publishing, which produces www.roboticstrends.com, an online news, information and analysis portal focused on business and technology trends for people who build, buy, invest in, and seek to understand the educational, personal, service, mobile, industrial and military robotics market; and Robotics Trends, a subscription media product providing primary research, analysis and market observations for the robotics and intelligent systems industries.
Robotics Trends Events, which produces the RoboBusiness Leadership Summit (www.robobusiness.com), the Robotics Trends Virtual Summits (www.robovirtualevents.com), and the RoboNexus
About EH Publishing
EH Publishing, Inc. is the leading provider of independent business and consumer content and information serving the custom electronics, information technology, house of worship, pro audio, robotics, homebuilding, and supply chain markets through its multimedia publications, websites, newsletters, and expos. Our flagship multimedia products include CE Pro, CE Pro PLUS, CEProVIP, CE Pro LIVE, Electronic House, Electronic House Expo (EHX), Explore3DTV.com, ChannelPro-SMB, Live Sound International, ProSoundWeb.com, Worship Facilities Conference & Expo (WFX), Robotics Trends, RoboBusiness Leadership Summit, Robotics Trends Virtual Summits, Supply Chain Management Review, Logistics Management, and Modern Materials Handling. For more information visit www.ehpub.com.
Featured Product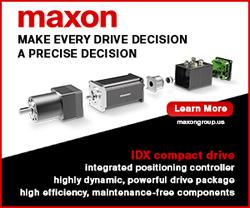 The compact brushless EC-i motor combined with an EPOS4 positioning controller delivers a highly dynamic, powerful drive package with field-oriented control (FOC), high efficiency, and maintenance-free components in a high-quality industrial housing. The maxon IDX drives are suitable for use across the entire speed range (from standstill to maximum speed) and have an extremely high overload capability. Together with a positioning controller, the integrated sensor (single turn) enables absolute positioning.