Japan Industrial Imaging Association, 1394 TA Focused on Next-Generation IIDC2 Standard Development
SAN FRANCISCO, Oct 31, 2011 (BUSINESS WIRE) -- The Japan Industrial Imaging Association (JIIA) and the 1394 Trade Association today announced a new agreement under which the two organizations will work together on developing standards for the machine vision market.

The JIIA (Japan Industrial Imaging Association) is one of the major organizations (AIA, EMVA, JIIA) that contributes to developing the standards for machine vision products used worldwide in industrial, commercial and consumer applications. According to the JIIA, "Cooperation between these two organizations will create a multiplier effect based on the success of each organization."
"Next-generation standards for machine vision market will be developed and enhanced by merging the 1394 TA's successful standardizing activity for seventeen years into recent activities of the JIIA," said Max Bassler, 1394 Trade Association chairman. "This is a very constructive development for the markets, and for the companies working on new machine vision products."
Both groups are now engaged in standardizing the IIDC2 specification based on the new cooperative agreement. IIDC2 is a new next-generation camera control protocol based on IIDC and designed with a view to general application and future expandability. IIDC has been standardized by the 1394 Trade Association and is now widely used in the IEEE1394 interface digital camera popular in industrial applications. IIDC2 will be useful for IEEE1394 and also existing interfaces and new / future interfaces, such as CoaXPress. The IIDC2 version is expected to be widely adopted in the machine vision market, and will be demonstrated at Vision 2011 (Booth 6E11) in Stuttgart, Germany, Nov. 8-10.
The JIIA-1394 TA standardizing activity started in July 2008; the Next Generation Camera Protocol Working Group of the JIIA has been working on the effort for three and a half years, holding many technical discussions and exchanging information and data with the Instrumentation and Industrial Control Working Group of the 1394 Trade Association.
The 1394 Trade Association is a global standards organization dedicated to the enhancement and advancement of the IEEE1394 standard. For more information visit the 1394 Trade Association website at www.1394ta.org
Featured Product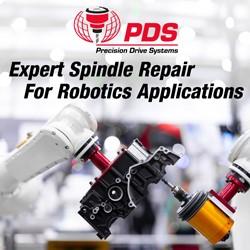 Precision components machined by CNC robot machining systems require compact, lightweight, and high-speed motorized spindles capable of delivering higher efficiency, performance, and reliability than those used in many other industries. That's why manufacturers of milling, cutting, trimming, grinding, polishing, and deburring trust Precision Drive Systems (PDS) to provide accurate and dependable spindle repair to perform to the most exacting standards.