Used in high-variety electronics production, Cobra offers production speed of 21,000 cph and capacity for 240 intelligent feeders. Quattro-Pick feature, with software-optimized production sequence, lets machine pick 4 components from as many feeders simultaneously. Featuring 2 parallel rows, 8 pickup nozzle arrangement lets 4 nozzles on either front or back pick components concurrently.
Simultaneous pickup increases speed of the multi-nozzle head

Essemtec's Cobra is the world's first machine that features the Quattro-Pick feature, allowing it to pick four components from four different feeders simultaneously. It is therefore faster than other pick-and-place machines with multi-nozzle pickup head.
Cobra from Essemtec is quickly becoming the most popular SMD pick-and-place machine for flexible, high-variety electronics production. With a production speed of 21,000 cph and a capacity for 240 intelligent feeders, it optimally combines flexibility and performance. With the unique new Quattro-Pick feature, four components from four different feeders are picked up simultaneously. This is possible only with the perfect match of pick-and-place head, feeders and software.
Cobra's eight pickup nozzles are arranged in two parallel rows. As such, four nozzles on either the front or the back can pick a component at the same time. The Cobra Feeders are so fast and the positioning is so accurate that the nozzles in the second row can pick another four components immediately after.
The precision of the pick-and-place head and the fast, accurate feeders enable the Cobra to pick multiple components simultaneously. With a software-optimized production sequence, the Quattro-Pick feature increases production speed by up to 25 percent.
Essemtec will highlight the Quattro-Pick feature at the upcoming productronica exhibition in Munich, Germany. Visit Essemtec in Hall A3, booth 358.
About the company:
The Swiss machine manufacturer Essemtec is a market leader in manufacturing flexible production systems for industrial users. Essemtec has been developing, manufacturing and marketing equipment and machines for all processes in the electronics industry since 1991: printers, dispensers, pick and place and soldering systems. Manual, semi-automatic and fully automatic systems are available. The range of products also includes transportation and storage systems, as well as software solutions for planning, simulation optimisation and documentation of manufacturing. All Essemtec systems are optimized for maximum flexibility. The user can switch from one product to another in no time, thus making maximum use of the available production capacity. Essemtec - Be more flexible.
Featured Product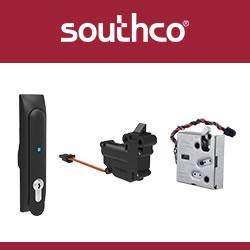 Many robotics engineers need to securely mount and latch sensitive electronic components in their robotics applications; Southco is able to help reduce theft and vandalism with our proven and reliable access technologies. Learn how Southco can help secure your robotics, or other smart city application, from theft and vandalism.