Standardized Robotic Welding Cells Now Available from Wolf Robotics
Fort Collins, CO: Wolf Robotics now offers an assortment of pre-engineered robotic welding cells. LeanArc systems are designed for the flexibility to meet complex application needs, while allowing for simple installation and operation. The systems include all components including: welding robot, positioner, torch, human machine interface, torch cleaner, full operator safety package and welding power supply.

LeanArc systems include virtual models for use in optional offline programming. Optional remote diagnostics and programming services are also available.
LeanArc cells are a cost-effective way to automate your manufacturing processes, improving productivity, flexibility and profitability.
For more information about LeanArc, visit the Wolf Robotics booth #6322 at the 2011 Fabtech show in Chicago, IL. New brochures are now available.
Wolf Robotics LLC, (www.wolfrobotics.com) provides automated solutions for fabricators.
Wolf Robotics, currently has supplied over 8,400 robots worldwide for welding, cutting, press brakes and material removal. For further information about other Wolf Robotic products (http://www.wolfrobotics.com), write to: Wolf Robotics, 4600 Innovation Drive, Fort Collins, CO 80525, call (970) 225-7600 or send an email to: Chuck.Boyer@wolfrobotics.com. To request electronic files of the release and/or photos contact Chuck Boyer at (970) 225-7784.b
Featured Product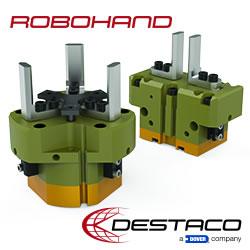 Automatically change end effector tooling quickly and easily with Destaco's Automatic Tool Changers. Designed with exceptional repeatability, high rigidity and load capacity, they are perfect for multiple tooling applications utilizing one robot. We offer different models and sizes to handle light-duty to heavy-duty applications. Our RQC/RTP Series provides a high level of flexibility with a configurable, modular design that accommodates up to four optional modular interfaces.