Building system moves into Europe, Middle East, Mexico, and beyond.
PITTSBURG, Kan., Dec. 19, 2011 - Less than four years after its release, the TETRIX® Building System continues to spread across the globe and into the hands of educators inspired to teach robotics.

Pitsco Education, developer of the TETRIX Building System, recently reached an agreement with EduTech to sell the LEGO® MINDSTORMS® NXT-compatible version of TETRIX throughout much of the Middle East: the United Arab Emirates (U.A.E.), Oman, Qatar, Bahrain, Kuwait, Jordan, and Egypt. The system was designed for creating a robust robot framework while still using the control from the MINDSTORMS NXT system.
Developed in 2008, the system went global the following year. Currently, international MINDSTORMS NXT dealers distribute the building system in more than 40 countries - with Western Europe and Mexico leading in interest.
"TETRIX is a versatile and flexible robotics platform for schools and engineering colleges," said Sudhanshu Sharma, CEO of Techtronics Education in India. "By using TETRIX, students can develop and build curriculum-linked robotics projects to understand theoretical concepts in a fun-filled manner. This enables schools to comply with the CCE mandate of the education governing body in India. TETRIX is also a very scalable platform and can be used for serious robotics projects at engineering colleges."
According to Tony Allen, TETRIX product manager, this comes
as no surprise.
"TETRIX is very unique in the international market," he said. "With the continuum that TETRIX offers, there is nothing similar available."
By continuum, Allen refers to the fact that students can enter robotics using the LEGO MINDSTORMS NXT platform and progress to larger, rugged robots by adding the TETRIX building system while still utilizing the MINDSTORMS brick as the controller.
When showcased at BETT in London, one of the world's largest educational technology conferences, TETRIX caught the eyes of many - including several ministers of education. Pitsco, located in southeast Kansas, has been nominated two years in a row for the Kansas Exporter of the Year Award. Based on these successes and its 40 years in hands-on education, Pitsco selected 30 more activities to offer internationally, including kits for a hydraulic robot arm, CO2 dragsters, water rockets, green energy, and structures.
"Now we're taking that 40 years of knowledge and products to students in other countries," Allen said. "The concept of hands-on learning as opposed to traditional book learning - I think that's the thing. It falls right into learning by doing."
Featured Product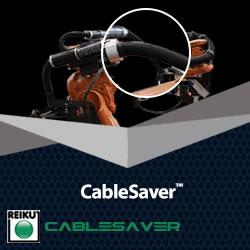 REIKU's Cable Saver™ Solution eliminates downtime, loss of revenue, expensive cable and hose replacement costs, maintenance labour costs. It's available in three sizes 36, 52 and 70 mm. All of the robots cables and hoses are protected when routed through the Cable Saver™ corrugated tubing. The Cable Saver™ uses a spring retraction system housed inside the Energy Tube™ to keep this service loop out of harms way in safe location at the rear of the Robot when not required. The Cable Saver™ is a COMPLETE solution for any make or model of robot. It installs quickly-on either side of the robot and has been tested to resist over 15 million repetitive cycles.