Huaxing Machinery Corp. is pleased to report that following its successful research and development of Robotic Welding System for fabrication of corrugated web beams, the first set of Robotic Welding System was manufactured and sold for RMB 14 million ($2.25 million) on December 27, 2011.
"This is an important milestone for the Company in its drive for product diversification and revenue growth," said Xianhua Sun, Chairman of the Company, "Huaxing is now a leading company in the research and development and manufacturing of Robotic Welding System for fabrication of corrugated web beams. The new product line will serve as the second growth engine for Huaxing in the next five years."

The Robotic Welding System manufactured by Huaxing is specially designed for fabrication of corrugated web beams. The product's target market is steel structure fabrication companies. There are currently about 4,300 steel structure fabrication companies in China.
The Company is also pleased to announce that Mr. Xiuxue Chai has been appointed as CEO and director of the Company effective December 31, 2011. Mr. Chai replaces Mr. Xiaodong Han, who has resigned as CEO due to personal reasons. Mr. Han will remain as a director of the Company.
Mr. Chai most recently served as COO and Corporate Secretary of Shandong Huaxing Mechanical, Inc. ("Shandong Huaxing") between November 2006 and December 2011. Mr. Chai joined Shandong Huaxing in 1990 and served successively as Manager of Accounting, Deputy General Manager, and General Manager and Chairman of Shandong Huaxing's agricultural machinery division.
About Huaxing Machinery Corp.
Huaxing is engaged in the business of machinery manufacturing. Through its wholly owned subsidiary Gold Rhino Limited, Huaxing holds an 80% controlling equity interest in Shandong Gold Rhino Huaxing Machinery Co., Ltd., the operating entity that holds the manufacturing facilities located in Boxing County, Shandong province, China. Its main products are stone cutting, polishing and processing machinery and equipment for the building and construction industry. Its six product series and 80 product models are sold in Chinese domestic and international markets. Huaxing is also a leading company in the manufacturing of Robotic Welding System for fabrication of corrugated web beams.
Featured Product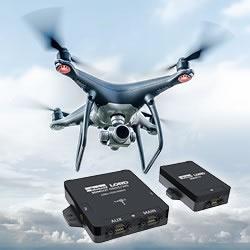 The C-series high performing inertial sensor package provides an OEM form-factor that is optimized for size and weight in Off Highway, Unmanned Ground Vehicles/Mobile Robots and Unmanned Aerial Systems. It's compact and low-profile anodized aluminum housing can be connected directly to a printed circuit board using a UART header or a Samtec FFSD ribbon cable and 2-56 fasteners.