Company Founder's Expertise in Early Adoption of Emerging Automation Technologies and Commitment to Automation Job Growth Supports RIA's Mission
Orion, Michigan - January 9, 2012 - Applied Manufacturing Technologies (AMT), a leading supplier of factory automation design, engineering and process consulting services today announced its president and founder Mike Jacobs has been re-elected to serve on the Robotic Industries Association's (RIA) board of directors. AMT's Jacobs' expertise in early adoption of emerging automation technologies and commitment to automation job growth aligns perfectly with RIA's mission and goals.

"Throughout our 22+ year history we regularly serve robot manufacturers, small and large system integrators, and robot end users," said Mike Jacobs, president of Applied Manufacturing Technologies. "This wide-ranging exposure to our industry allows me to bring a broad perspective to the RIA board and my personal passion for developing automation careers is in line with, and supports, the RIA mission statement to improve global competitiveness of North American manufacturing and service sectors."
AMT's mission is to improve the productivity of all segments of the automation supply chain therefore they understand the needs of the entire current, and future, robot community. AMT customers are exactly the same people as the RIA constituents. AMT is a long time and active supporter of the RIA. The company has been an RIA member since 1994 and Mr. Jacobs has personally served on the RIA membership committee since 1998 and before that on the marketing committee. Members of other AMT staff have also served on the education and marketing committees.
Founded in 1989, Applied Manufacturing Technologies (AMT) is a leading supplier of complete consulting and engineering services, offering single-source engineering solutions to the automation and manufacturing industries. The company's service offerings range from design and simulation to programming, installation and support of industrial automation solutions. The company's technical and industry expertise in automation for the automotive, aerospace, medical, heavy equipment and consumer products industries offers its customers the highest quality professional service available in the industrial arena. For more information contact Applied Manufacturing Technologies at 248-409-2000, or online at www.appliedmfg.com.
Featured Product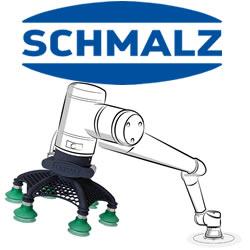 In order to interact with their environment and perform the tasks, lightweight robots, like all industrial robots, depend on tools - and in many cases these are vacuum grippers. These form the interface to the workpiece and are therefore a decisive part of the overall system. With their help, the robots can pick up, move, position, process, sort, stack and deposit a wide variety of goods and components. Vacuum gripping systems allow particularly gentle handling of workpieces, a compact and space-saving system design and gripping from above. Precisely because the object does not have to be gripped, the vacuum suction cupenables gapless positioning next to each other.