PMC variant of IRC5 Panel Mount Robotic Controller can be integrated into large robots. It consists of large drive module and standard IRC5 control module that can be separately mounted in variety of configurations, which gives machine builders flexibility to create custom enclosures to best protect electronics for specific harsh environments. Up to 4 drive modules may be connected to same control module for multiple robot control (MultiMove) or control of additional axes.
AUBURN HILLS, Mich. ABB Robotics has extended the functionality of its IRC5 panel-mounted controller (PMC) to all ABB robots, including its largest robot models. Previously the PMC was only available for models up to the IRB 1600. Featuring a new, large panel mount drive module, PMC "Large" will bring smaller footprint functionality and simplified internal cabling benefits to robot models from the IRB 2400 up to the IRB 7600. The new PMC variant will also make integrating large robots significantly easier by allowing machine builders and system integrators the flexibility to create custom enclosures to best protect the electronics by the means appropriate for specific harsh environments. This will benefit numerous installation types, including food applications that require rigorous washdown capabilities, foundry applications where the moist, dusty atmosphere requires a sealed cooling system, and other environments where the controller may be faced with ignition risks, extreme temperatures or excessive vibration. With panel mounting, the controller can be sealed off from these factors with the best possible enclosure.

The PMC Large offers the full capability of the standard IRC5 controller, just without the full cabinet armor. This facilitates flexible mounting while still delivering the proprietary ABB motion control advantages of QuickMove to assure the shortest possible cycle time, and TrueMove for precise path accuracy and repeatability.
"The panel mounted version of the IRC5 has been a very popular option with our smaller robots over the past few years," said Joe Campbell, vice president of the ABB Robots & Applications Group. "Our system integrators and end-users have been asking that we extend the PMC to our larger robots, and we are pleased to be able to comply. It is unique to the industry and we feel it will bring significant advantage to our customers."
The PMC Large consists of a large drive module and the standard IRC5 control module that can be separately mounted in a variety of configurations, such as on top of each other, side-by-side, or back-to-back. Each module is made up of two layers, the first of which may be folded down for easy access to the second. Up to four drive modules may be connected to the same control module for multiple robot control (MultiMove) or control of additional axes.
The PMC Large is fully EMC certified, eliminating disturbances to surrounding equipment and allowing for EMC certification of the final enclosed solution.
About ABB
ABB (www.abb.com) is a leader in power and automation technologies that enable utility and industry customers to improve their performance while lowering environmental impact. The ABB Group of companies operates in around 100 countries and employs about 130,000 people.
About ABB Robotics
ABB Robotics (www.abb.com/robotics) is a leading supplier of industrial robots - also providing
robot software, peripheral equipment, modular manufacturing cells and service for tasks such as welding, handling, assembly, painting and finishing, picking, packing, palletizing and machine tending. Key markets include automotive, plastics, metal fabrication, foundry, electronics, machine tools, pharmaceutical and food and beverage industries. A strong solutions focus helps manufacturers improve productivity, product quality and worker safety. ABB has installed more than 190,000 robots worldwide.
Featured Product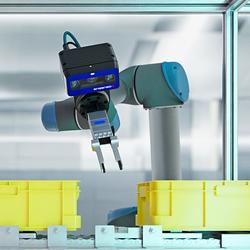 App Your Sensor®! What would smartphones be without apps? They would be mobile phones that can't do much more than make phone calls and sending SMS. Apps turn smartphones into intelligent assistants with any number of different tasks. Transferred into the world of image processing, this app-based approach transforms cameras and sensors into customised, smart vision sensors.