GeckoSystems Intl. Corp. has released their CEO's shareholder update summarizing the events of 2011 and the company's expectations for the future.
GeckoSystems Intl. Corp. has released their CEO's shareholder update summarizing the events of 2011 and the company's expectations for the future. The update includes information on Market Initiatives, Research and Development (R&D) progress, a reduction of Company debt, and a restructuring of GOSY stock that significantly reduces the number of shares outstanding.

R&D Highlights:
The CareBot™ has become more robust in application while overall manufacturing costs have been reduced.
Migrated the CareBot's navigation system to guide power wheelchairs, opening many additional markets to the company's software.
GeckoVerify™ and GeckoConfigEditor™ were created to assist in migration of GeckoSystems software to existing products not originally designed for robotic control.
Marketing Initiatives:
The CyberMobile™ Chair, or ChairBot™ concept drew strong interest in Japan and China, resulting in a collaboration agreement with ZMP of Japan (a premier robotic research company).
A joint venture to produce a 21st century wheelchair in the People's Republic of China is being finalized with production expected to begin in May. GeckoSystems will have an equity interest in the joint venture and an ongoing revenue stream.
The company has already received interest in distribution rights for the JV wheelchairs in the US and Japan.
Marketing personnel hired and additional sources of revenue in the EU and the Pacific Rim are being explored.
Financial and Equity Reorganization:
Debt was reduced by 30%. The Spencers engaged in stock transactions that reduced debt and increased shareholder value.
Issued and outstanding shares were reduced by 25% (in addition to a 2010 reduction of over 30%) and improved the share structure of the company.
Goals and Expectations for 2012
Expansion of software extensions and technical refinement for the CareBot prior to planned Beta testing.
A continued focus on sales and marketing of outside applications of software developed for the CareBot.
Sustained marketing efforts worldwide.
Establishment of a regular stream of income from licensing and joint venture revenues.
"We are entering 2012 with the brightest prospects since our founding over fourteen years ago. Our suite of 'mobile robot solutions for safety, security, and service™,' are being met with new and and demonstrated interest both domestically and internationally. With our newly expanded marketing department we expect to continue to develop our JV licensing with the probability for cash flows in the first or second quarter of this year. Most of our technologies are mature and ready for additional JV applications. I am personally appreciative of the loyalty and support of our hundreds of stockholders," summarized Martin Spencer, President/CEO, GeckoSystems.
Letter to stockholders:
http://www.geckosystems.com/investors/2011_Year_End_Msg.pdf
About GeckoSystems:
GeckoSystems has been developing innovative robotic technology for over fourteen years. It is CEO Martin Spencer's dream to make people's lives better through robotic technology, with a focus on Mobile Service Robots (MSRs). The MSR market is just coming of age.
There are many subgroups of service robots, personal assistance robots, professional assistance robots, social assistance robots, healthcare robots and care giving robots. Many of the robotic platforms now on the market are classified as "software ready" but they do not have integrated software and mechanical systems. GeckoSystems has developed the CareBot hardware and software in tandem for a specific application, the CareBot elder care robot.
In just this last year the market for Mobile Service Robots has started to expand. GeckoSystems received a request from Imasen, Japan's oldest wheelchair maker, to migrate the CareBot's navigation system to their power wheelchair. As a result of this GeckoSystems created the "Collision Proof Wheelchair" with CyberMobilitya. The company expects their "collision proof" wheelchair and an upgrade for existing wheelchairs will be the first product of this sort to be marketed.
The CareBot has completed Alpha trials, which showed that families readily accepted the unit along with their elderly loved ones. It was tested in a home care setting and received enthusiastic support from both caregivers and care receivers. The company believes that the CareBot will enhance the safety and well being of its elderly charges while decreasing stress on the caregiver and the family.
The company believes that the CareBot should be the first product that is introduced to the retail market because of its very strong return on investment potential for care giving families.
CareBot ROI, a Wise Family Decision
http://www.geckosystems.com/markets/CareBot_ROI.php
At this time, Gecko Systems is preparing for Beta testing of the CareBot prior to full-scale production and marketing.
Kinect Enabled Personal Robot video:
http://www.youtube.com/watch?v=kn93BS44Das
Above, the CareBot demonstrates static and dynamic obstacle avoidance and backs in and out of a narrow alley. There is no joystick control or programmed path; movements are smoother that those achieved using a joystick control. AI creates three low levels of obstacle avoidance: reactive, proactive, and contemplative. Subsumptive AI behavior enables the CareBot to reach its target destination after engaging in obstacle avoidance.
One CareBot™ One Family
http://www.youtube.com/watch?v=xxK46chfP6A
GeckoSystems stock is quoted in the U.S. over-the-counter (OTC) markets, on the Pink OTC Current Information tier, under the ticker symbol GOSY.
Featured Product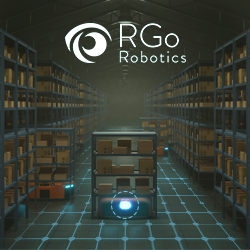 RGo's intelligent vision and AI system, Perception Engine™, provides mobile robots with 3D perception capabilities, enabling them to understand complex surroundings and operate autonomously just like humans. Its camera-based system operates is able to localize, map, and perceive in even the most robust environments including indoor/outdoor and dynamic or unstructured environments.