DataNab announces Modbus I/O modules for networkable and standalone monitoring and control applications
DataNab announces Modbus I/O modules for networkable and standalone monitoring and control applications:

- Ui28_PC2, featuring 28 universal inputs and two high-speed pulse counters
- Ui16_R5, featuring 16 universal inputs and five relay outputs
The devices can be purchased separately or as part of a larger DataNab solution with sensors, building management software and/or other control and automation devices.
Ui28_PC2
The Ui28_PC2 is ideal for monitoring sensors and metering devices. Users can efficiently monitor temperature, humidity, current and other status points for building automation, energy management and other applications. It is one of the few devices of its kind with 28 inputs, giving customers an easy way to gather data from a large number of sensors with a single device. It is also the first DataNab universal I/O device to feature two high-speed, 32-bit pulse counters.
Businesses can further benefit by using the Ui28_PC2 to monitor sub-circuits by connecting up to 28 current transducers (CTs) to the device. This can help customers measure usage specifically tied to certain elements, such as lighting circuits, in addition to using the pulse counters to measure a building's total energy usage as recorded by the main utility meter.
Ui16_R5
The Ui16_R5 reduces the input count and adds five output relays, making it ideal for monitoring and control of multiple points. The output relays enable the control aspect and can be used network-wide to easily turn lights on and off, activate or de-activate alarms or fire up the air conditioner or heating system to address room temperatures.
The Ui16_R5 offers Form C outputs, which provide a normally closed and normally open contact for each relay. This simplifies wiring for contractors, integrators and end users.
Both devices are compact and rail-mountable, and capable of working with 12-24 volt AC or DC power supplies to maximize ease of use for all customers.
Featured Product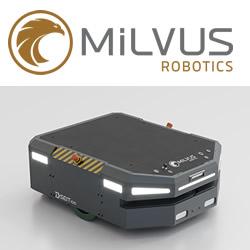 Enhance your material transport capabilities - even in the busiest warehouse or production environments - with SEIT robots. Made by Milvus Robotics, these reliable and safe AMRs efficiently move materials with no human intervention required. They work seamlessly alongside people, forklifts, and other equipment. Requiring no infrastructure, SEIT robots are suitable for a range of manufacturing environments, distribution centers and more.