Mobile-Robotics Selected for 'Ship-to-Store' Efficiency and Accuracy
NORTH READING, Mass.--Kiva Systems, a developer of game-changing mobile-robotic solutions that automate order fulfillment and distribution operations, today announced that Dansko will implement a Kiva system to automate its new distribution center in West Grove, Penn. The footwear company selected Kiva for its operational excellence in efficiency, accuracy and flexibility.

The new Dansko DC will use Kiva's innovative mobile-robotic solution to fill orders including shoes, boots, sandals, socks and healthcare apparel for shipment to more than 2,500 premium U.S. and international retail locations.
"At Dansko, the relationships we have with our retail partners are an essential element of our success, so Kiva's exceptional order accuracy was an important factor in our decision, said Peter Kjellerup, co-founder of Dansko. "We were equally impressed with how flexible Kiva is which means that as our company continues to grow, our automation can easily expand with us - without having to worry about overhauling the system in five or 10 years. We're excited to break new ground not only with our new DC but also with our new mobile-robotic fulfillment solution from Kiva."
Kiva uses hundreds of robotic drive units that bring inventory on mobile shelves directly to workers, allowing easy and efficient access to all inventory items at all times. Unlike legacy material handling equipment, the Kiva solution can handle products of all shapes and sizes, and eliminates wasteful time spent walking the warehouse floor. Kiva is a complete automation solution that encompasses inventory control, forward replenishment, picking, packing, shipping, sortation, finishing and quality assurance that triples warehouse productivity, while simultaneously increasing the speed, accuracy and flexibility of the operation.
"Dansko is a clear leader and innovator in the field of comfort footwear," said Mick Mountz, CEO and founder of Kiva Systems. "The company is also an outstanding example of true environmental and community responsibility, which makes it extremely rewarding to work alongside them as a partner and even more gratifying to know that our system will help Dansko continue to deliver excellence - one step at a time."
About Dansko
Established in 1990, Dansko has been a leader in providing all day comfort footwear, socks and healthcare apparel while standing at the forefront of ethical business practices. Founded by husband and wife team Mandy Cabot and Peter Kjellerup, Dansko is an employee owned company based in Pennsylvania. You can find Dansko products at over 2,500 premium US and international retail locations. For more information visit dansko.com.
About Kiva Systems
Kiva Systems, Inc. offers game-changing automation solutions for distribution centers that help companies simplify operations and reduce costs while increasing strategic flexibility. Using hundreds of autonomous mobile robots and sophisticated control software, the Kiva Mobile-robotic Fulfillment System enables extremely fast cycle times with reduced labor requirements, from receiving to order picking to shipping - all without conveyor. The result is a building that is quick and low-cost to set up, inexpensive to operate, and easy to change. For more information about Kiva Systems and its solutions, please visit www.kivasystems.com.
Featured Product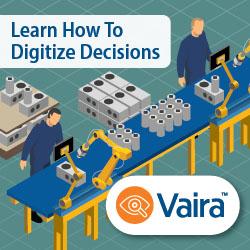 Pleora's AI Gateway provides a hybrid approach that allows system designers, integrators, and end-users to add more advanced AI capabilities alongside existing sensor sources and classic computer vision algorithms.