The Fairchild Imaging CIS1021 image sensor is the latest member of the sCMOS product line that enables image capture in low-light environments without sacrificing speed, resolution, or dynamic range
MILPITAS, Calif.--BAE Systems Imaging Solutions has introduced its first high-definition scientific complementary metal oxide semiconductor (sCMOS) image sensor, the Fairchild Imaging CIS1021. As a high definition camera component designed for collecting images through a microscope or other imaging system, the sensor chip can aid scientists researching single molecules in the laboratory to stars in the far reaches of space by simultaneously providing high sensitivity, dynamic range and speed all at high-definition television (HDTV) resolution.

"The CIS1021 sensor delivers essential imaging performance parameters without having to make the trade-offs inherent in other sensors available today"
Unlike competing sensors, the CIS1021 combines these multiple capabilities into a single sensor and allows scientists to capture all the data in a scene, from the faintest to the brightest target in an image. The speed, dynamic range and sensitivity make the sensor ideal for life science applications including live cell microscopy, drug discovery and real-time polymerase chain reaction (RT-PCR), as well as physical science applications such as astronomy.
"The CIS1021 sensor delivers essential imaging performance parameters without having to make the trade-offs inherent in other sensors available today," said Colin Earle, deputy general manager of BAE Systems Imaging Solutions. "Scientific applications such as live cell microscopy require imaging at extremely low light levels since too much illumination will lead to cell damage or death. The Fairchild Imaging sCMOS sensor significantly reduces that concern, while at the same time enhancing imaging speed and data collection range."
The CIS1021 is able to capture images at speeds up to 100 frames per second at full resolution, five times faster than typical scientific imagers of 20 frames per second. This allows users to collect more image information in a shorter period of time and allows users to track events that cannot be seen with standard sensors. When examining living cells or DNA samples, the CIS1021's high dynamic range allows scientists to collect both weak and strong signals from the sample in the same image. This provides greater detail from bright or dim areas and captures data without damaging the sample. When used in applications such as cell biology and drug discovery, scientists can more efficiently detect or identify ways to prevent or treat medical conditions, for example.
In the field of astronomy, sCMOS technology and the CIS1021 sensor can be useful in the scientific application known as "lucky imaging," for instance, where higher resolution can reduce the blurring effects of atmospheric turbulence when taking images of planets and stars through the earth's atmosphere.
Among its key technology features, the CIS1021 image sensor offers more than 88dB of intra-scene dynamic range, captures images in an industry-standard 1920 x 1080 HDTV format, and is available in either a monochrome or color version.
With this general release of the newest member of the Fairchild Imaging sCMOS family, OEM camera manufacturers can integrate the CIS1021 sensor into a wider array of imaging devices in the scientific segment and other markets such as border security, surveillance, aerospace, defense, and medical imaging.
BAE Systems Imaging Solutions designs and manufactures solid-state electronic imaging components, cameras and systems. These components have potential uses across diverse aerospace, industrial, medical and scientific imaging applications, including machine vision, digital radiography, genetic sequencing, night vision systems, aerial surveillance, and missile seekers.
Featured Product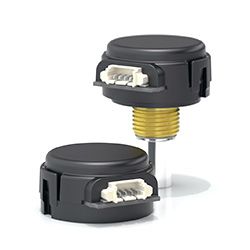 High resolution. Limited space. Not a problem for our latest miniature encoders that provides precise feedback and is easy to install within smaller-sized applications. Now available in 400 and 500 CPRs. Coming in at about the size of a nickel, we've added our proprietary Opto-ASIC sensor technology and improved quadrature for even greater motion control. Product Features: 10 resolutions up to 360 CPR, plus new 400 and 500 CPR resolution; 288 configurations available, including single and differential output; Compact form factor • 0.866 inch (in) / 22.00 millimeter (mm) package outside diameter • 0.446 in / 11.33 mm package height • Fits NEMA 8, 11, 14 and 17 motors; Simple and efficient assembly process • Four-piece construction • Push-on hub disk design, patent pending; 100 kilohertz frequency response; Shafted version up to 0.25 in / 6.25 mm diameter.