Event showcases new opportunities and innovative solutions that are leveraging big data to transform the Information and Communications Technology landscape
SUNNYVALE, Calif.--Fujitsu Laboratories of America announced that it is hosting its Fifth Annual Technology Forum in Santa Clara, California tomorrow. The theme for this year's event is "From Sensor Networks to Human Networks - Turning Big Data into Actionable Wisdom." This invitation only event will feature keynote talks and panel discussions on how "big data" is transforming our daily lives and will showcase innovative new big data based solutions from Fujitsu companies worldwide.

"Our innovative solutions harness the power of big data while taking into account people's needs for privacy, access and control."
According to industry experts, as a result of broad adoption of new technologies for personal communication and online interaction including smart phones and social networking, 2.4 zettabytes (2.4 billion terabytes) of unstructured big data will be created in 2012. These new layers of data about people, places, and things are emerging in real time from many directions, providing context around our content, location, searches, purchases, environment, and social/interest graphs. This is creating new challenges for Information and Communications Technology ("ICT") industry around data privacy, storage, bandwidth and processing, but also new opportunities for delivering valuable services to customers and society, by converting this data into actionable wisdom.
"Big data provides a huge market opportunity for ICT leaders like Fujitsu to develop human-centric solutions that address needs of societies globally," said Yasunori Kimura, President and CEO of Fujitsu Laboratories. "Our innovative solutions harness the power of big data while taking into account people's needs for privacy, access and control."
The Technology Forum will feature talks by Fujitsu executives and industry experts on big data including Gordon Bell, Principal Researcher, Microsoft Research, Tatsuo Tomita, President of Fujitsu Laboratories Ltd., Tony Doye, President and CEO of Fujitsu America Inc., and Michael Chui, Senior Fellow, McKinsey Global Institute. The breakout sessions will discuss important issues including data privacy and security and new applications in healthcare, cloud computing and business models being enabled by big data. Additionally the Forum will feature innovative big data solutions from Fujitsu Laboratories and Fujitsu companies worldwide, including:
K computer - Jointly developed by RIKEN and Fujitsu (currently the world's number one supercomputer)
Socially-interactive teddy bear robot prototype - A robot with multiple onboard sensors and behaviors
Twitter as Alternative to Real World Sensors
Real-time Mobile Bio-Data Tracking, Analysis, and Display
World's First Palm Vein/Fingerprint Hybrid Biometric Authentication System
Spatiotemporal Data-Processing Technology to Quickly and Precisely Search Areas of Interest
Highly Parallel and Fast Range Query Function on a Distributed Data Store
Market Defect Detection based on Compound Data Analysis
Location-Intelligent Auto-Access Technology
NuVola Private Cloud Platform ™
Human Centric Technology for Wellness in Mobile Phones
Dynamic Optical Network Design and Visualization for Data Traffic Explosion
Validation as a Service: Advanced Java Testing
360° Wrap-Around Video Imaging Technology
Total Data Center Energy Optimization through Simulation
Business Process Manager Analytics
ServerView Resource Orchestrator (Virtual Edition and Cloud Edition)
Next Generation Server Based on Resource Pooling Architecture
Application of High-Speed CMOS Converters in Optical Networking
Fujitsu Frontech: Biometric Solutions Group - PalmSecure™ Authentication System
About Fujitsu
Fujitsu is a leading provider of ICT-based business solutions for the global marketplace. With approximately 170,000 employees supporting customers in 70 countries, Fujitsu combines a worldwide corps of systems and services experts with highly reliable computing and communications products and advanced microelectronics to deliver added value to customers. Headquartered in Tokyo, Fujitsu Limited (TSE:6702) reported consolidated revenues of 4.5 trillion yen (US$55 billion) for the fiscal year ended March 31, 2011. For more information, please see: www.fujitsu.com.
About Fujitsu Laboratories of America
Fujitsu Laboratories of America, Inc. is a wholly owned subsidiary of Fujitsu Laboratories Ltd. (Japan), focusing on research on Internet, interconnect technologies, software development and solutions for several industry verticals. Conducting research in an open environment, it contributes to the global research community and the IT industry. It is headquartered in Sunnyvale, CA. For more information, please see: www.fla.fujitsu.com.
Fujitsu, the Fujitsu logo and "shaping tomorrow with you" are trademarks or registered trademarks of Fujitsu Limited in the United States and other countries. Windows is a registered trademark of Microsoft Corporation in the United States and other countries. All other company or product names mentioned herein are trademarks or registered trademarks of their respective owners. Information provided in this press release is accurate at time of publication and is subject to change without advance notice.
Featured Product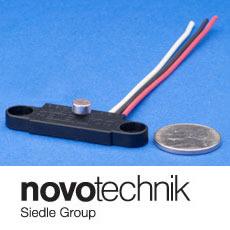 Vert-X 05E Series of dual angle/speed sensors. The series features easy mounting in small and narrow spaces with a 5 mm body depth and mounting flanges with metal inserts. The sensors make measurements only 6 mm from edge of product for close-to-wall measurement applications. Vert-X 05E Series sensors measure angles from 0 to 360°, rotational speed and direction with repeatability to 0.1°.