New products and on-site demonstrations will be offered, including Mini Conveyors, motorized LX Series Actuators, EZ Product Finder, and much more.
SCHAUMBURG, Ill.--MISUMI USA, Inc., a subsidiary of MISUMI Corporation, part of MISUMI Group, Inc. (TOKYO: 9962), will highlight its mechanical components for motion control, assembly and factory automation applications at this year's Automation Technology Expo West, Booth #4121. ATX West 2012 is scheduled for February 14-16 at California's Anaheim Convention Center.

Machine building OEMs and automation system design engineers can learn more about MISUMI's comprehensive lines of configurable components at the MISUMI exhibit, where product highlights and demonstrations will include:
Miniature Conveyors, including a new space-saving Flat Belt Single Track Mini Conveyor (70mm) with built-in motor drive, and a Dual Track Mini Conveyor (57mm), End Shaft Driven, which features a rugged carbon steel sprocket and Polyacetal plastic chain for ease of maintenance. MISUMI's compact motorized conveyor systems are designed to perform precise, automated short-run conveying in machine building, as well as in testing and inspection applications.
LX Series Linear Actuators in various profiles, including motorized versions with both Metric and NEMA motor mounts (standard motor mounts are included in the price), plus a wide range of mounting brackets and accessories that allow the actuators to be tailored to perform specific tasks and functions.
Single Axis Robot RS Series Actuators designed for use in a broad range of automated machinery requiring extremely precise motion control. The ruggedly built robotic actuators can be used to perform part assembly, pick-and-place, stacking, inserting, inspection, alignment and testing, and other functions. Accessories include: power and signal cables, I/O cabling, control terminal, noise filter, support software and dedicated USB cable (to connect controller to the PC), and replacement data backup batteries for larger, RSH- type controllers.
Standard Precision Positioning Stages and High Precision Positioning Stages, in a wide variety of styles and configurations, which are deployed to perform various positioning tasks in tooling jigs, manufacturing, assembly, testing and inspection, nesting, and sensor adjustment.
New Induction Hardened Rack Gears (RGEAH and RGEAHL), designed for use in pinion (spur gear) mechanisms to create a simple linear actuator that converts the rotational motion of the pinion into linear motion.
MISUMI engineers and product experts will be on hand at the MISUMI USA booth to demonstrate the company's products and innovative web services. One web-based application is the new EZ Product Finder, a flash-based application accessible through the MISUMI Website, http://us.misumi-ec.com, that provides an instant, well-organized visual index to all of the company's Factory Automation components.
The other highly popular web service is AutomationMaterials.com, a dedicated and easy-to-use resource enabling machine builders and design engineers to quickly select, specify, quote and order MISUMI's configurable Metal and Resin Plates. The precision-machined blank plates are available in over 30 different materials and can be ordered in sizes ranging from 20mm to 2,500mm, with dimensions configured to within 0.1mm.
Also during the show, MISUMI will conduct its free Configurable Component Technical Seminar onsite daily. For more information, please visit http://us.misumi-ec.com
About MISUMI USA, Inc.
Located in Schaumburg, Illinois, MISUMI USA, Inc. was established in 1988 as a Subsidiary of MISUMI Corporation, a part of the MISUMI Group (TOKYO: 9962). MISUMI USA, Inc. is a leading supplier of fixed and configurable components such as leader pins, single-axis actuators, linear shafts, slotted keys, aluminum extrusions, parting locks, linear guides, XY stages and other components for factory automation, plastic mold and press die industries. For a complete list of available components, please visit http://us.misumi-ec.com
Featured Product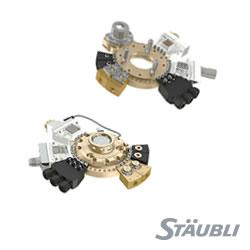 Stäubli is a pioneer in the construction and development of robotic tool changing systems. Our customers benefit from our many years of expertise in all industry sectors, as well as our modular product concept, which offers three efficient solution paths: MPS COMPLETE offers preconfigured robotic tool changers for immediate use. MPS MODULAR allows the user to determine the configuration, while MPS CUSTOMIZED allows the construction of special, application-specific systems.